We have decided to welcome our child here in the Czech Republic after months of research. Our research started with the whole world and ended with Prague in Czech Republic. The reasons behind this can be summed up in a few sentences
It is our first child so we decided to be in Europe, it is a bit closer to our families compared to Asia and Central America.
We looked for good quality medical services which was covered by Ulrika's maternity insurance.
We wanted to either be really close to Sweden, but not in Sweden, or have a community surrounding us (Tallinn, Prague and Malta was added to our list)
We wanted to be able to have private options, especially when it came to midwifes. (Lissabon was added to our list)
Prague became our main choice mainly due to that we have our good friends the King family here. They have already gone through giving birth to a child here and they have connections that we could use.
The Czech Republic has one of the world's lowest maternal mortality rates and they also have a good prenatal care.
It's cheap to give birth here, about six times cheaper than Sweden and you get a lot for the money here. For example, you can have a private midwife and the hospital you choose is actually the hospital you are going to give birth at. This is not you what you can expect giving birth in for instance, Sweden.
The final argument to give birth in Prague was when the speaker list of this year's version of Hacker's Congress was released and we managed to get tickets to it.
---
Vi har beslutat att välkomna vårt barn här i Tjeckien efter månader av efterforskning. Vi utgick från hela världen och det  slutade med Prag i Tjeckien. Anledningen till detta kan sammanfattas med några få meningar
Det är vårt första barn så vi bestämde oss för att vara i Europa, det är lite närmare till våra familjer jämfört med Asien och Centralamerika.
Vi letade efter högkvalitativa medicinska tjänster och som täcktes av Ulrikas graviditetsförsäkring.
Vi ville antingen vara riktigt nära Sverige, men inte i Sverige, eller ha en grupp av frihetliga vänner som omger oss (Tallinn, Prag och Malta lades till på vår lista)
Vi ville ha privata alternativ, särskilt när det gäller barnmorskor. (Lissabon lades till vår lista)
Prag blev vårt främsta val på grund av att vi har våra goda vänner, familjen King här. De har redan gått igenom att föda ett barn här och de har kontakter som vi kan använda.
Tjeckien har en av de lägsta mödradödlighetsiffrorna i världen och väldigt bra neonatalvård.
Det är billigt att föda här, ungefär sex gånger billigare än Sverige och du får väldigt mycket för pengarna här. Exempelvis kan du ha privat barnmorska och sjukhuset du väljer är faktiskt det sjukhus som du kommer föda på. Det är något du inte kan förvänta dig när du föder i till exempel Sverige.
Det sista argumentet för att föda i Prag var när talarlistan av årets version av Hacker's Congress släpptes och vi lyckades få biljetter till det.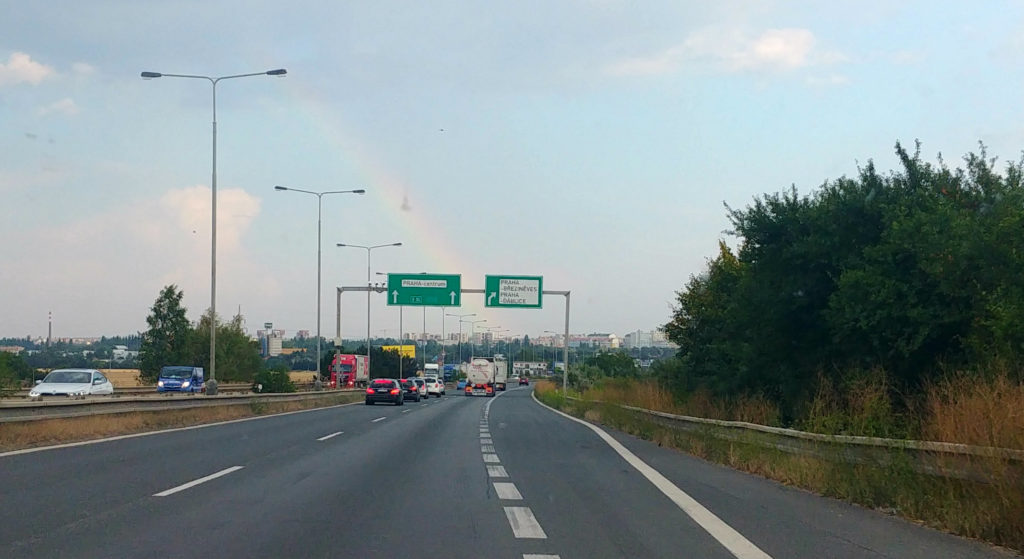 The hospital we have chosen is located outside Prague – there are at least seven different maternity hospitals that we have found in and around Prague and some have better reputation than others. From the expat community here in Prague, three hospitals stood out (Rakovnik, Neratovice and Horovice) as being the most woman-friendly where birthing a child to a large extent is not looked  upon as a medical problem and where the "assembly line"-principle is not applied.
Another important thing for Ulrika was to have her own private midwife, who she can get to know before the delivery and be sure that the person who is going to be responsible for the birth has good knowledge about birthing techniques and has the personality that is complementary to Ulrika.  All this can be found in Prague, there is a big market for private midwifes and doulas here, and we were fortunate to have contacts that could help us find a good midwife.
---
Sjukhuset som vi har valt ligger utanför Prag – det finns minst sju olika förlossningssjukhus som vi hittat i och runt Prag och vissa sjukhus har ett bättre rykte än andra. Från "Expat"-gruppen här i Prag fick vi veta att tre sjukhus stod ut (Rakovnik, Neratovice och Horovice) som de mest kvinnovänliga sjukhusen där en födsel till stor del inte betraktas som ett medicinskt problem och löpandebandprincipen inte tillämpas
En annan viktig sak för Ulrika var att ha sin egen privata barnmorska, som hon kan lära känna innan förlossningen och vara säker på att personen som ska vara ansvarig för födelsen har goda kunskaper om förlossningstekniker, samt har en personlighet som är komplementär till Ulrika. Detta går att hitta i Prag, det finns en stor marknad för privata barnmorskor och doulas här, och vi hade tur att ha kontakter som kunde hjälpa oss att hitta en bra barnmorska.
Marketa is our midwife and she works part time at one of the top ranked hospitals (by the expat community) around Prague, and she was the one who could get us in to the most popular one Rakovnik. All hospitals here works differently, most require you to do a pre-registration at twelve weeks of pregnancy and some as late as week 36. Our hospital was of the first kind, but our midwife works here so we could do the pre-registration at week 28 when we where in Prague last time (in June). We got a guided tour around the hospital and Marketa went through step by step what happens here during birthing and what options Ulrika has.
Ulrika's Czech midwife has worked 15 years as a midwife in a natural birthing center in Australia so she speaks excellent English and is also very knowledgeable about alternatives to both pharmacological pain relief and routine C-sections due to breech positioning.  In some hospitals in Prague, you're not even allowed to choose the birthing position, but here you can even choose to give birth in a pool. This hospital suits our midwife the best and we hope that it will suit us too.
---
Marketa är vår barnmorska och hon arbetar deltid på en av de högst rankade sjukhusen (enligt expatgruppen) runt Prag, och hon var den som kunde ta oss in på det populäraste av dem Rakovnik. Alla sjukhus fungerar olika, de flesta kräver att du gör en förregistrering vid vecka tolv av graviditeten och några så sent som i vecka 36. Vårt sjukhus är av den första sorten, men vår barnmorska jobbar här så vi kunde göra förregistreringen i vecka 28 när vi var i Prag förra gången (i juni). Vi fick en guidad tur runt sjukhuset och Marketa gick igenom steg för steg vad som händer här under födseln och vilka alternativ som Ulrika har.
Ulrikas tjeckiska barnmorska har arbetat 15 år som barnmorska i ett naturligt födelsecenter i Australien så hon talar utmärkt engelska och är också mycket kunnig om alternativ till både farmakologisk smärtlindring och rutin kejsarsnitt på grund av sätesbjudning. På vissa sjukhus i Prag får du inte ens välja födelseposition själv, men här kan du till och med välja att föda i en pool. Detta sjukhus passar vår barnmorska bäst och vi hoppas att det passar oss också.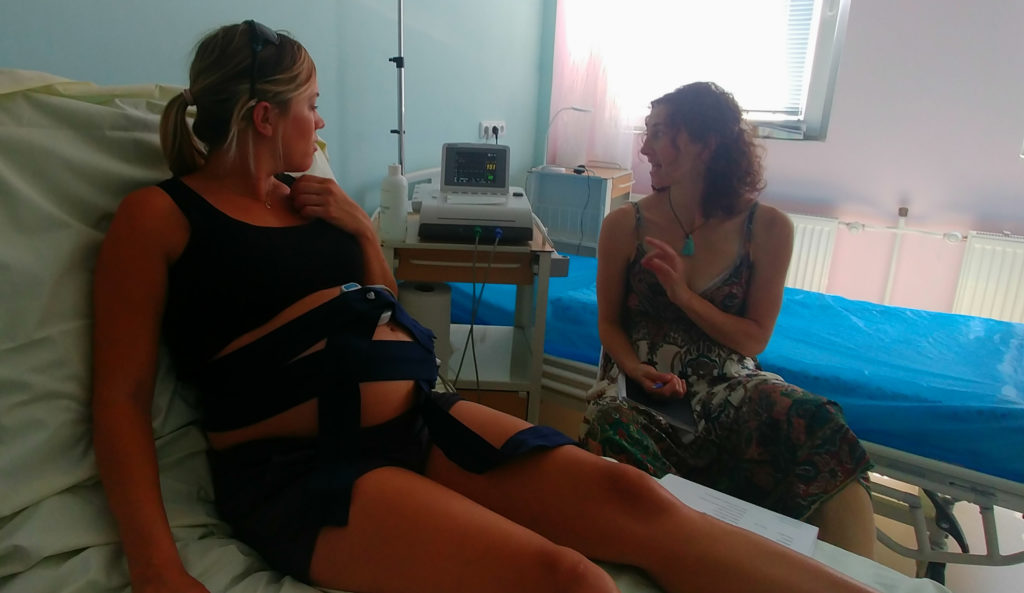 Our hospital requires a week 36 examination to be completely registered for birth here, so that was why we needed to be in Prague before Ulrika entered week 36. Our midwife met us at the hospital and went through important hospital policy documents and did the CTG-monitoring (a procedure where you monitor the baby's heartbeat for a longer time). We also did an ultrasound and the last blood work and other tests Ulrika needed to do before the birth. We got to see one of the doctors working at the maternity ward and filling in all the necessary data in Ulrika's journal.
Our midwife is the one who takes care of Ulrika and all the necessary check ups the last weeks of the pregnancy and she is the one we will call when the delivery starts. She will be the one handling the delivery at the hospital with doctors standing by, if an acute situation would occur, and she will also be handling the postnatal care and do home visits after the birth.
---
Vår sjukhus kräver en undersökning vid vecka 36 för att man ska vara helt registrerad för födelse här. Därför behövde vi vara i Prag innan Ulrika gick in i vecka 36. Vår barnmorska träffade oss på sjukhuset och gick igenom viktiga policy dokument från sjukhuset och gjorde CTG- mätning (en metod där man övervakar barnets hjärtslag under längre tid). Vi gjorde också ett ultraljud och de sista blodtesterna och andra test som Ulrika behövde göra före födseln. Vi träffade en av de läkare som arbetar på förlossningsavdelningen och fick fylla i alla nödvändiga uppgifter i Ulrikas journal.
Vår barnmorska är den som tar hand om Ulrika, barnet och alla veckokontroller de sista veckorna av graviditeten och hon är den vi ska ringa till när förlossningen startar. Hon kommer att vara den som är ansvarig för förlossningen på sjukhuset där läkare står "stand by", om en akut situation skulle inträffa, och hon kommer också att hantera eftervården och göra hembesök efter födseln.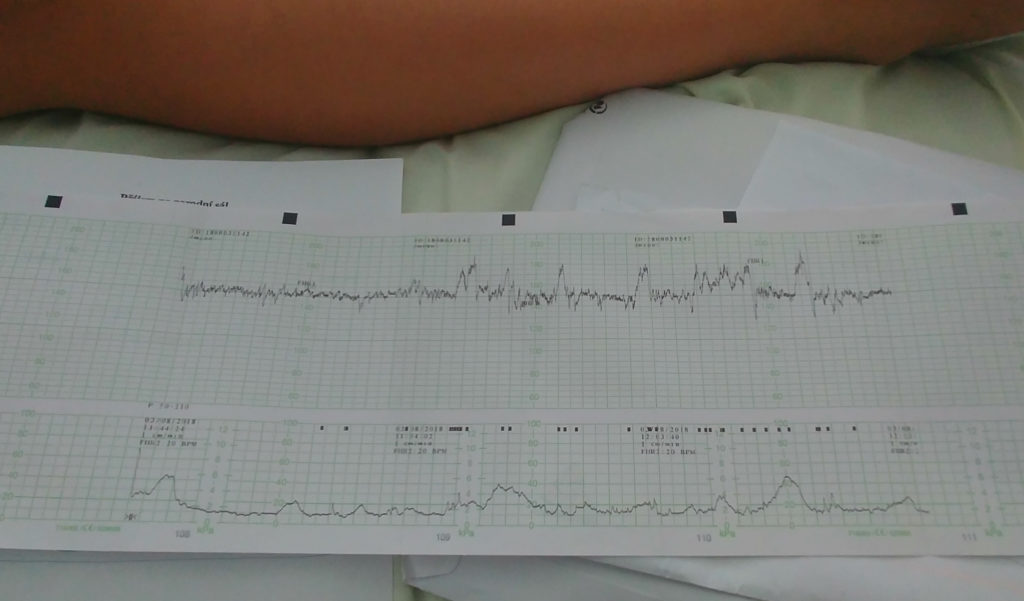 Everything looked great and our girl has not been fixated yet, but she is head down at the moment.
A link to the brochure about creating a positive birth experience and knowing your rights in the Czech Republic can be found here. It is a very important document which can also be found in Czech, Russian, Vietnamese and Romani.
---
Allt såg bra ut och vår flicka har ännu inte fixerat sig, men hon har huvudet nedåt just nu.
En länk till broschyren om att skapa en positiv födelseupplevelse och att veta dina rättigheter i Tjeckien finner du här. Det är ett mycket viktigt dokument som även finns på tjeckiska, ryska, vietnamesiska och romska.