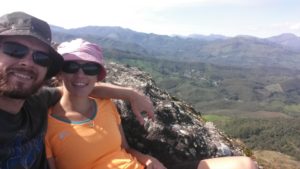 Vi är ett par i 30-årsåldern som efter våra forskarutbildningar bestämt oss för att resa runt i världen på obestämd tid. Vi sålde nästan alla våra ägodelar, de saker vi nu äger får plats i två mindre ryggsäckar, och vi började vår resa i februari 2015 i sydostasien. Vi är nu i Europa och det är värt att nämna att vi inte planerar vår resa, så vart vi hamnar beror oftast på vilka människor vi möter och vilka rekommendationer de kan ge oss.
Vi är nu på väg att utöka vår nomadiska familj och vi ser fram emot hösten 2018 då vi ska bli tre i familjen.
Vi har döpt bloggen till ankor på vift eftersom vi har ett mycket stort intresse av frihet och är emot alla former av våld och tvång. Det är också anledningen till varför vi har valt att göra denna långa resa och vill du veta mer om bakgrunden till denna resa så rekommenderar vi blogginlägget om hemskolning och minimering av statligt tvång. Har du liknande syn på världen och inser att vi kommer korsa din väg så hör av dig till oss, så kanske vi kan mötas upp 🙂
We are a couple in our early 30's who, after our PhD's, have decided to travel the world indefinitely. We sold almost all of our belongings, the things we now own fits in two smaller backpacks, and we began our journey in February 2015 in Southeast Asia. We are now in Europe and it is worth mentioning that we do not plan our trip, so wherever we end up usually depends on the people we meet and what recommendations they can give us.
We are now about to expand our nomadic family and we look forward to the fall of 2018 when we will be three in the family.
The name of the blog "ducks on the loose" (ankor på vift) refers to our very strong interest in the philosophy of freedom and we are against all forms of violence and coercion. It is also the reason why we have chosen to make this long trip and if you want to know more about the background of this trip, we recommend the blog post about homeschooling and the minimization of state coercion. Do you have a similar view of the world and realize that we will cross your path in the near future, please contact us, maybe we can meet up 🙂