Leeuwarden, or Ljouwert in West Frisian, is a town we have visited three times. First time we went to the aqua zoo which is located east of Leeuwarden. The second time, we went to Decathlon to update our wardrobe and on our way back home we decided to drive through Leeuwarden. We saw a beautiful town, but it was when we drove past The Oldehove we knew that we had to come back and explore the tower and the city.
The Oldehove is an unfinished church, where its tower started to lean more and more during construction. The construction began in 1529, but it soon started tilting, so after several attempts to rescue the tower the construction was stopped in 1532-33. For 3.5 Euro you can go up in the tower and see the church bells (from 1633 and 1637), which is still working and rings,  and look at the view over Leeuwarden.  The height of the tower is 39 meters (128 feet) and has 183 steps. There is an elevator up to the first floor, but you still have to take the remaining stairs to the top. The top of the tower is displaced horizontally 2 meters (6 ft 7 in) from the center and we definitely felt the displacement going up the stairs on the side of the tower.
---
Leeuwarden, eller Ljouwert på västfrisiska, är en stad vi har besökt tre gånger hittills. Första gången besökte vi aqua zoo som ligger strax öster om Leeuwarden. Andra gången åkte vi till Decathlon för att uppdatera vår garderob och på vägen hem beslöt vi oss för att köra genom de centrala delarna av Leeuwarden. Vi såg en vacker stad och när vi körde förbi Oldehove visste vi att vi var tvungna att komma tillbaka och utforska tornet och staden.
Oldehove är en oavslutad kyrka, där tornet på kyrkan började luta mer och mer under byggandet. Byggandet började år 1529, men snart började tornet luta, så efter flera försök att rädda tornet upphörde konstruktionen år 1532-33. För 3,5 Euro kan du gå upp i tornet och se kyrkoklockorna (från 1633 och 1637), som fortfarande ringer, och titta på utsikten över Leeuwarden. Tornets höjd är 39 meter och har 183 trappsteg. Det finns en hiss upp till första våningen, men man måste ändå ta de återstående trapporna upp. Tornets topp är förskjuten horisontellt ca 2 meter från mittpunkten och vi kände definitivt av förskjutningen när vi gick uppför trappan på sidan av tornet.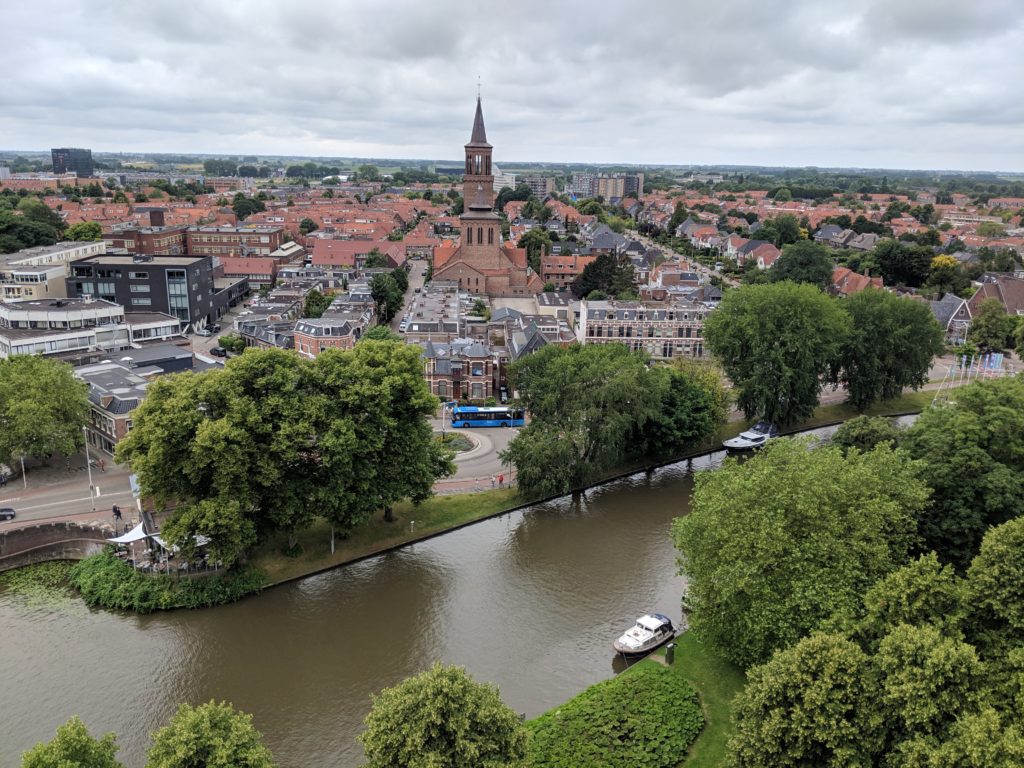 We will show more pictures from Leeuwarden in a slider below. We will also show some pictures from the Aqua zoo, located in the eastern part of Leeuwarden. It is a lovely little zoo with mainly marine animals, from penguins to seals, crocodiles and birds and monkeys. They have a small playground and we estimated that 2 hours would be enough time spent there if you have children as young as Othilia. The entrance fee is 17 Euro/person (15 if you buy the ticket online) and a 4 Euro parking fee.
---
Vi kommer visa fler bilder från Leeuwarden i ett bildspel nedan. Vi kommer också att visa några bilder från Aqua zoo, som ligger i den östra delen av Leeuwarden. Det är en härlig liten djurpark med främst marina djur, från pingviner till sälar, krokodiler och fåglar och apor. De har en liten lekplats och vi uppskattar att 2 timmar skulle vara tillräckligt med tid där om du har barn så unga som Othilia. Entréavgiften är 17 Euro / person (15 Euro om du köper biljetten online) och 4 Euro i parkeringsavgift.