We would never had gone to Franeker , or Frjentsjer in West Frisian,  if it weren't for Ulrika and that she regularly looks at Atlas Obscura to see if there are some interesting places to discover.
The world's oldest still working orrery can be found here. The orrery was built from 1774 to 1781 by Eise Eisinga, an amateur astronomer, in his house to help the people in Netherlands understand Astronomy. In 1774 an alignment of several planets happened and this induced mass panic among the Dutch people,  who thought that a planetary collision was imminent, and Eise Eisinga wanted to show that their fears were unfounded.
Eise Eisinga had not been allowed to go to school, but he was gifted and through self-education he mastered mathematics and astronomy and published a book about the principles of astronomy when he was only 17 years old. Eisie Eisinga became a wool carderer,  but would later be recognized as a scholar and become a professor at the Franeker Academy.
---
Vi hade aldrig åkt till Franeker, eller Frjentsjer på västfrisiska, om det inte var för att Ulrika regelbundet tittar på Atlas Obscura för att se om det finns några intressanta platser att upptäcka.
Världens äldsta fortfarande fungerande planetarium finns här. Solsystemsmodellen byggdes mellan 1774 och 1781 av Eise Eisinga, en amatörastronom, i sitt hus för att hjälpa folket i Nederländerna att förstå astronomi. 1774 inträffade att flera planeter hamnade i linje och detta orsakade massapanik bland holländarna. De trodde att en planetkollision var nära förestående och Eise Eisinga ville visa med sin modell att deras rädsla var ogrundad.
Eise Eisinga fick inte gå i skolan, men han var begåvad och genom självstudier lärde han sig att bemästra både matematik och astronomi.  Eise publicerade en bok om astronomins principer när han bara var 17 år gammal. Eisie Eisinga blev en ullkardare, men skulle senare erkännas som lärd och bli professor vid Franeker Academy.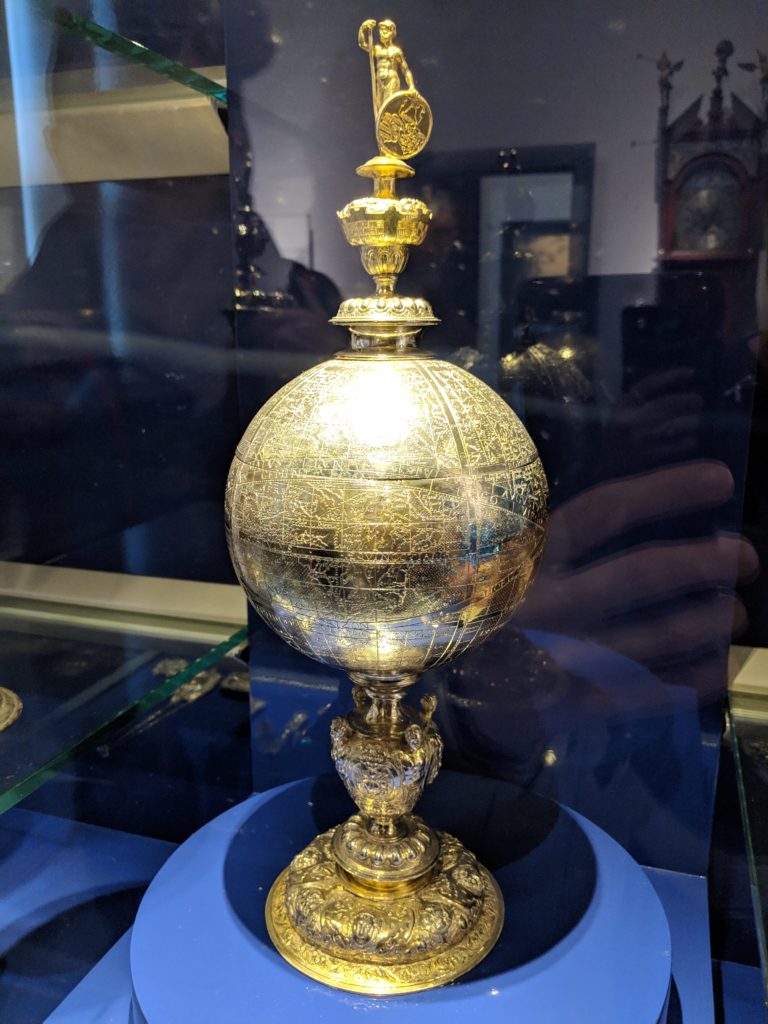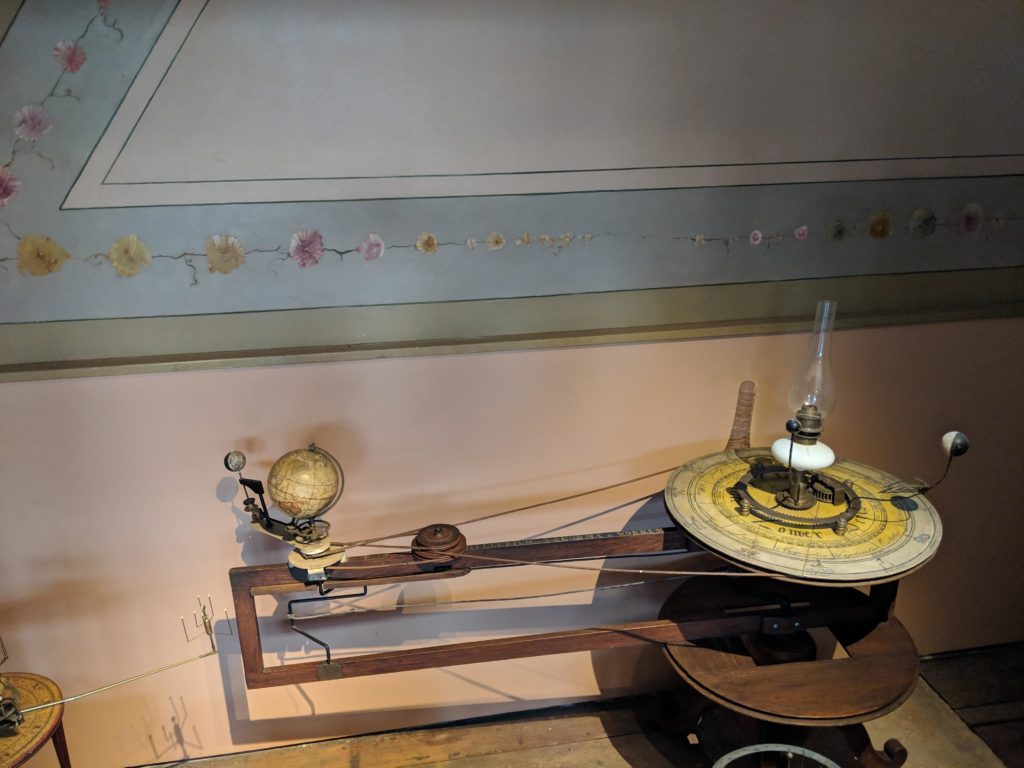 Franeker can be traced back to the 800's and the name probably derives from Froon-acker, meaning "country of the king", so it is an old town with lots of history. The city is small, but we came later during the day, so we went to the planetarium, ate at a restaurant and then had to go home to come back the day after.  When we went to the planetarium we got offered to buy a combination ticket for Museum Martena (8.5 Euro/person)  and we accepted that offer, but wouldn't be able to visit the Museum Martena the same day. The combination ticket is valid for one year, so that is good if you run out of time as we did. Both the planetarium and Museum Martena are quite small so we would have made it to both on the same day if we hade arrived earlier to Franeker the first day.
---
Franeker kan spåras tillbaka till 800-talet och namnet härstammar förmodligen från Froon-acker, vilket betyder "kungens land", så det är en gammal stad med mycket historia. Staden är liten, men vi kom sent på dagen så vi gick på planetariet, åt på en restaurang och sedan var vi tvungna att åka hem för att komma tillbaka dagen efter. När vi kom till planetariet så fick vi erbjudande om att köpa en kombinationsbiljett för Museum Martena (8,5 Euro / person) också och vi accepterade det erbjudandet, men kunde inte kunna besöka Museum Martena samma dag. Kombinationsbiljetten är giltig i ett år, så det är bra om du har tidsbrist som vi hade. Både planetariet och Museum Martena är ganska små så vi skulle ha hunnit med båda på samma dag om vi hade anlänt tidigare till Franeker den första dagen.
Museum Martena is a fortified stone house built around 1500 by a nobleman called Hessel van Martena. He was constantly at war with other noblemen in Friesland so he needed strong security. Inside is a collection of art and furniture from different eras, ranging from the van Martena family, but also from other noble families that has lived in this house. The van Martena family owned the house until 1694 when Suffidus Westerhuis bought the house. He was keen on bringing the house to the 18th century so much of the wall decorations comes from his era.  It is a lovely place to walk around in with exhibitions on all floors, with belongings from the different families who once lived here.
---
Museum Martena är ett befäst stenhus byggd omkring 1500 av en adelsman vid namn Hessel van Martena. Han var ständigt i krig med andra adelsmän i Friesland så han behövde stark säkerhet där han bodde. Inuti finns en samling av konst och möbler från olika tidpsepoker, från van Martena-familjen men även andra adelsfamiljer som har bott i det här huset. Familjen van Martena ägde huset fram till 1694 när Suffidus Westerhuis köpte huset. Han var angelägen om att föra huset till 1700-talet så mycket av väggdekorationerna kommer från hans era. Det är en härlig plats att gå runt med utställningar på alla våningar, med ägodelar från de olika familjerna som en gång bodde här.
More pictures from Franeker, house Martena and Planetarium: