Estimated date of birth was April 15th and that date came and went and little brother was now baking on overtime. I had an appointment at the hospital booked on Thursday the 15th and there the doctor could see that the body was ready and that the birth could start at any time. I started to feel pre-contractions during the weekend and every day I hoped that the birth would start, but it always ended with the contractions stopping later in the night. The advantage was that I got proper sleep the days before, but I also felt quite tired of being pregnant and I just wanted to meet our son.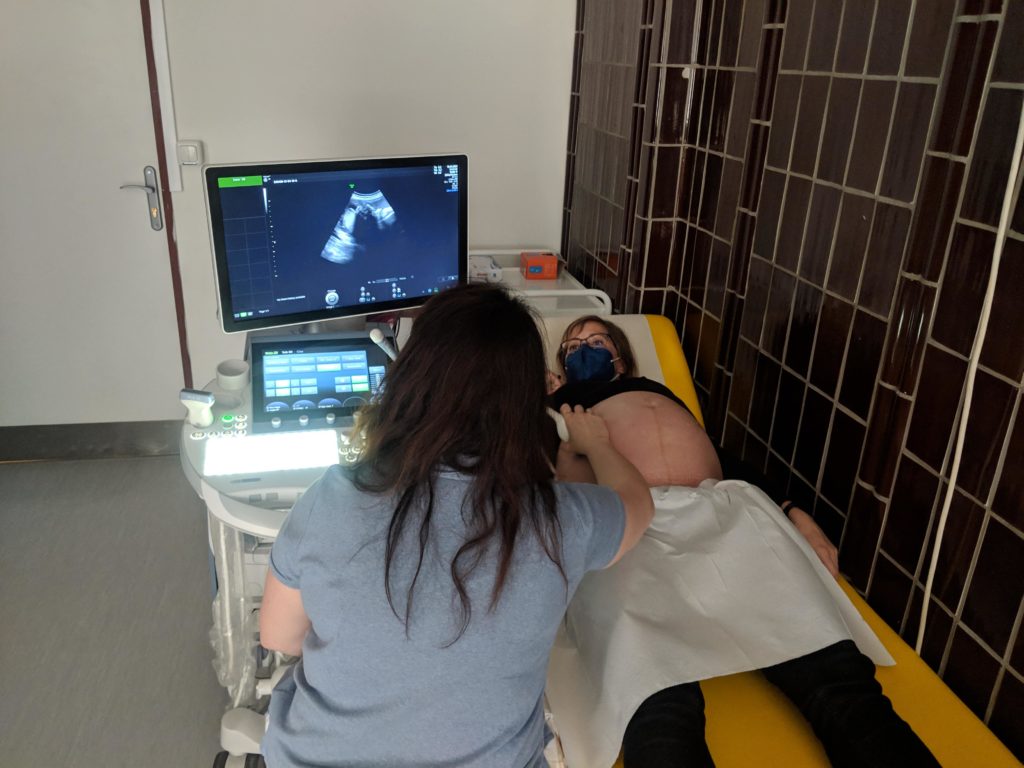 Beräknat födelsedatum var den 15:e April och det datumet kom och gick och lillebror bakades nu på övertid. Jag hade ett besök på sjukhuset inbokat torsdagen den 15:e och där kunde läkaren se att kroppen var redo och att förlossningen kund starta närsomhelst. Jag började känna av förvärkar under helgen och varje dag hoppades jag att förlossningen skulle dra igång, men det slutade alltid med att förvärkarna stannade av framåt natten. Fördelen var att jag fick ordentligt med sömn dagarna innan, men jag kände mig även rätt less på att vara gravid och jag ville bara få träffa vår son nu.
Monday April 19th
On Monday I had another examination at the hospital and at that point I had gone 4 days over the estimated date of birth, but according to the hospital I was 6 days passed due date because they calculated it differently. In the Czech Republic, you are not allowed to go more than 10 days passed the due date, so it was during this visit that we would plan a day to induce the birth. The appointment was at lunch time and a ctg-measurement was done and I was examined. I had pre-contractions before the examination and in connection with the doctor examining me, I felt that the birth started properly. As the examination also showed that I was open 3 cm, we planned that I would come to the birthing ward in the evening if I felt that I needed help with the progression.
På måndagen hade jag ännu en undersökning på sjukhuset och då hade jag gått 4 dagar över tiden från beräknat födelsedatum, men enligt sjukhuset så var jag 6 dagar över tiden då de räknade annorlunda. I Tjeckien får man ej gå mer än 10 dagar över tiden så det var vid detta besök vi skulle planera in en dag för att sätta igång förlossningen. Besöket var vid lunchtid och då gjordes en ctg-mätning och jag blev undersökt igen. Jag hade förvärkar innan undersökningen gjordes och i samband med att läkaren undersökte mig så kände jag att förlossningen drog igång ordentligt. I och med att undersökningen även visade att jag var öppen 3 cm så planerade vi in att jag skulle komma in på förlossningen till kvällen om jag kände att jag behövde hjälp med progressionen.
At home
Pontus and I went home and I informed my doula and midwife that everything was up and running. I took relatively hard labor contractions for a few hours myself at home before my midwife came by at 5pm to see how it went and help me with the labor. We worked together until 8 pm when my midwife examined me and then it turned out that I was still only open 3 cm.
Now I felt I was facing a big decision. I wanted to stay home as long as possible, but I was also afraid of having another long and difficult birthing experience. I had a lot of energy at this point and I was afraid of having to stay awake all night without getting any reward for the work I did and then be completely exhausted as I was with Othilia in the final stages of childbirth. So I chose to go to the birthing ward at 8.30 pm to get some help from the hospital to be able to start progressing.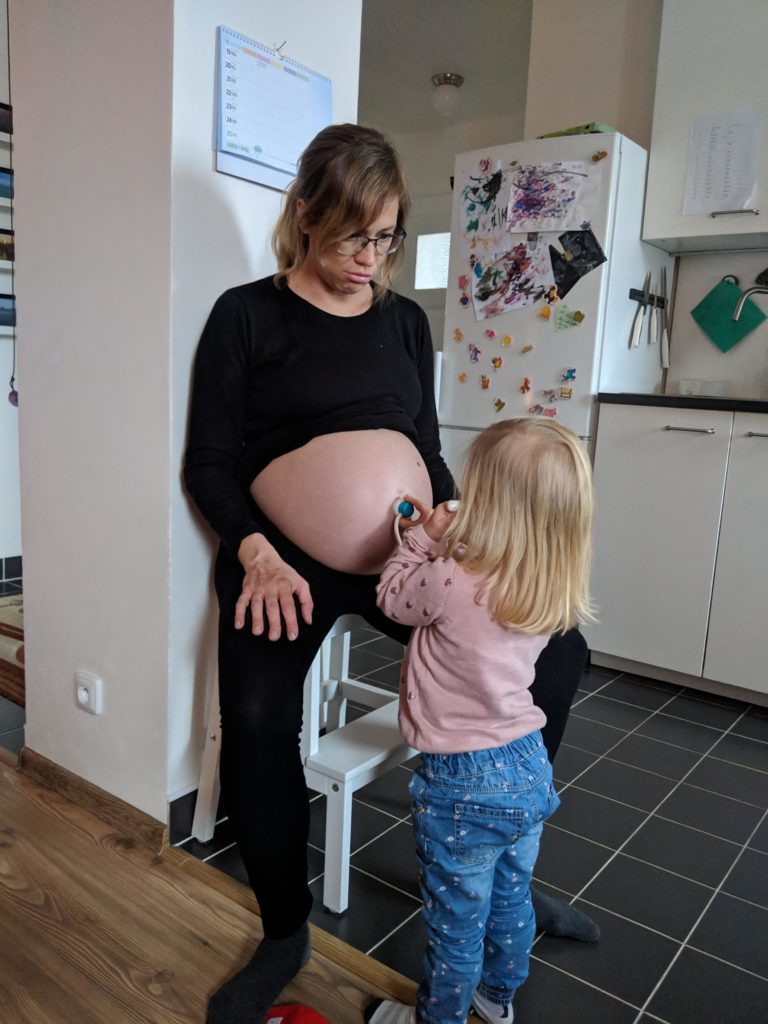 Jag och Pontus åkte hem och jag meddelade min doula och barnmorska att allt nu var igång. Jag tog relativt jobbiga värkar i några timmar själv hemma innan min barnmorska kom förbi vid 17-tiden för att se hur det gick och hjälpa mig i förlossningsarbetet. Vi arbetade tillsammans fram till 20-tiden och då min barnmorska undersökte mig visade det sig att jag fortfarande bara var öppen 3 cm. 
Nu kände jag att jag stod inför ett stort beslut. Jag ville helst vara så länge som möjligt hemma, men jag var också rädd för att få ännu en lång och jobbig förlossning. Jag var pigg vid denna tidpunkt då jag fått ordentligt med sömn dagarna innan och jag var rädd att behöva vara vaken hela natten utan att få någon belöning för arbetet jag gjorde och sedan vara helt slut så som jag var med Othilia i förlossningens slutskede. Så jag valde att åka in till förlossningen vid 20.30 för att få lite hjälp på traven nu när jag ändå var pigg.
At Bulovka
Once inside the birthing ward, Pontus had to go and buy a Corona antigen test while I was admitted, being connected to a Ctg-machine and tested for corona. We were both negative for Corona so that meant that Pontus could come in and be by my side during the birth.
The birthing could not have started better in the hospital. The obstetrician was very nice and open to discussing alternatives. My own midwife was not allowed to come, but my doula (you can find her here) met us at the birth to help me through the night. I also got a very nice midwife by my side who spoke good English and who also knew my midwife Marketa and had worked with her before at Rakovnik. I was also the only one at the birthing ward at that time so I could choose which delivery room I wanted. I had previously asked for an "above standard" maternity apartment and I knew exactly which room I wanted as I had previously used Bulovka's virtual tour to look around in the ward.
The doctor and I had agreed to start lightly with aids, so at 9.30 pm I received an enema and this caused my pain to reach new levels. The pains now were worse than any of the pains I had with Othilia. I can not describe the pains more than that they were right at the border of what I could manage without losing my mind completely. To help me, I had my doula Lenka who kept me in my bubble and helped me breathe through every contraction. Pontus took care of the music and a bath was poured and soon I was in the bath and took contraction after contraction with great calm. I was in good spirits and I thought that these strong contractions and my relaxed inward bubble would do the trick.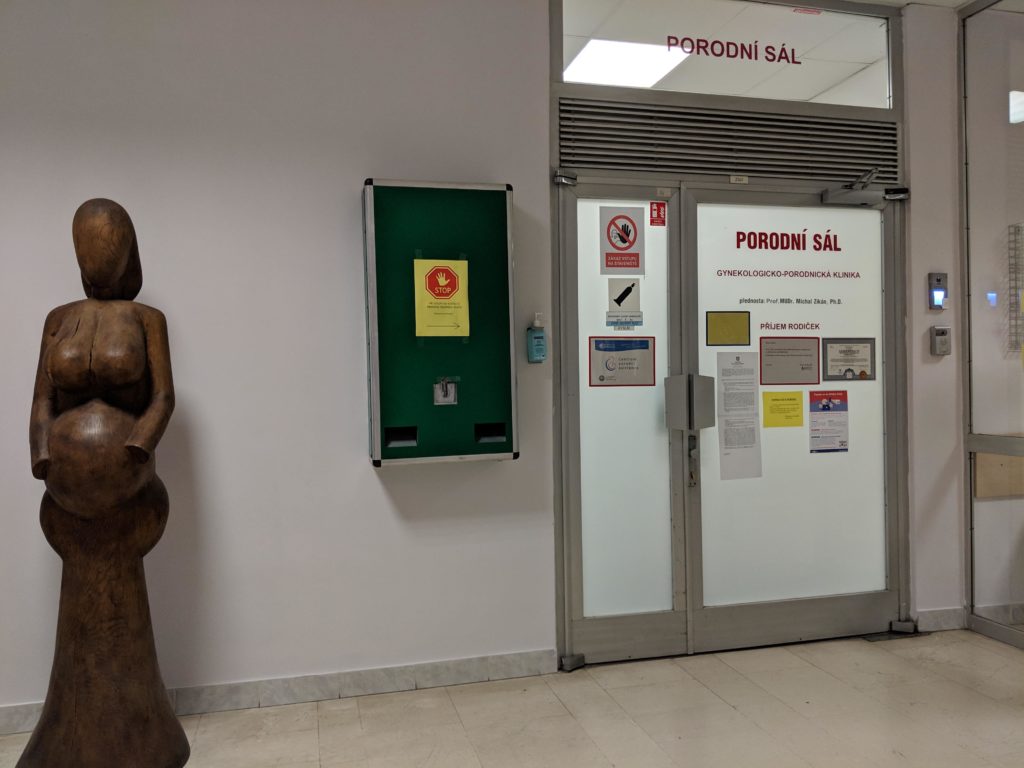 Väl inne på förlossningen så fick Pontus gå och köpa ett corona antigentest medan jag blev insläppt, kopplad till en ctg-maskin och testad för corona. Vi båda var negativa så det betydde att Pontus fick komma in och vara vid min sida under förlossningen.
Förlossningen kunde inte ha börjat bättre på sjukhuset. Förlossningsläkaren var väldigt trevlig och öppen för att diskutera alternativ. Min egna barnmorska fick inte följa med, men min doula (du hittar henne här) mötte upp oss vid förlossningen för att hjälpa mig genom natten. Jag fick även en väldigt trevlig barnmorska vid min sida som pratade bra engelska och som även kände min barnmorska Marketa och hade arbetat tillsammans med henne tidigare på förlossningen på Rakovnik. Jag var även den enda på förlossningen just vid det tillfället så jag fick välja vilket förlossningsrum jag ville ha. Jag hade tidigare bett om en "above standard" förlossningslägenhet och jag visste precis vilket rum jag ville ha då jag innan använt mig av Bulovkas virtuella rundtur.
Jag och läkaren hade kommit överens om att starta lätt med hjälpmedel så vid 21.30 fick jag lavemang och det gjorde så att mina värkar nådde nya nivåer i smärta. Värkarna nu var värre än någon av värkarna som jag hade med Othilia. Jag kan inte beskriva värkarna mer än att de var på precis vid gränsen vad jag klarade av utan att tappa fattningen helt. Till min hjälp hade jag min doula Lenka som höll mig kvar i min bubbla och hjälpte mig andas genom varenda värk. Pontus skötte musiken och ett bad tappades upp och snart låg jag i badet och tog värk efter värk i ett stort lugn. Jag var vid gott mod då jag trodde att dessa starka värkar och min avslappnade bubbla skulle göra susen.
Tuesday April 20th
The clock was ticking and at 1 aḿ at night it had been 12 hours since the birth started and I was still only open 3 cm. All pain for nothing.
I was disappointed in my own body, all these hours were with incredible pain without any reward. I got concerned then, but decided with my doula to start taking contractions in different positions that could help me progress and for two hours we did this. I had also had a fever and during this point in the labor I started to feel sick and my energy levels dropped. At 03 am I was examined again and was then told that I was now open 4-5 cm and this made me lose all faith in myself. I had lasted for 14 hours and now everything seemed to be a 27 hours of childbirth experience again, so I asked for an epidural. I was very sad about to have to take an epidural and risk prolonging the birth even more, but I could not function with such strong contractions anymore without getting anything in return and I now doubted my body's ability to give birth and sat and cried while we were waiting for the anesthesiologist.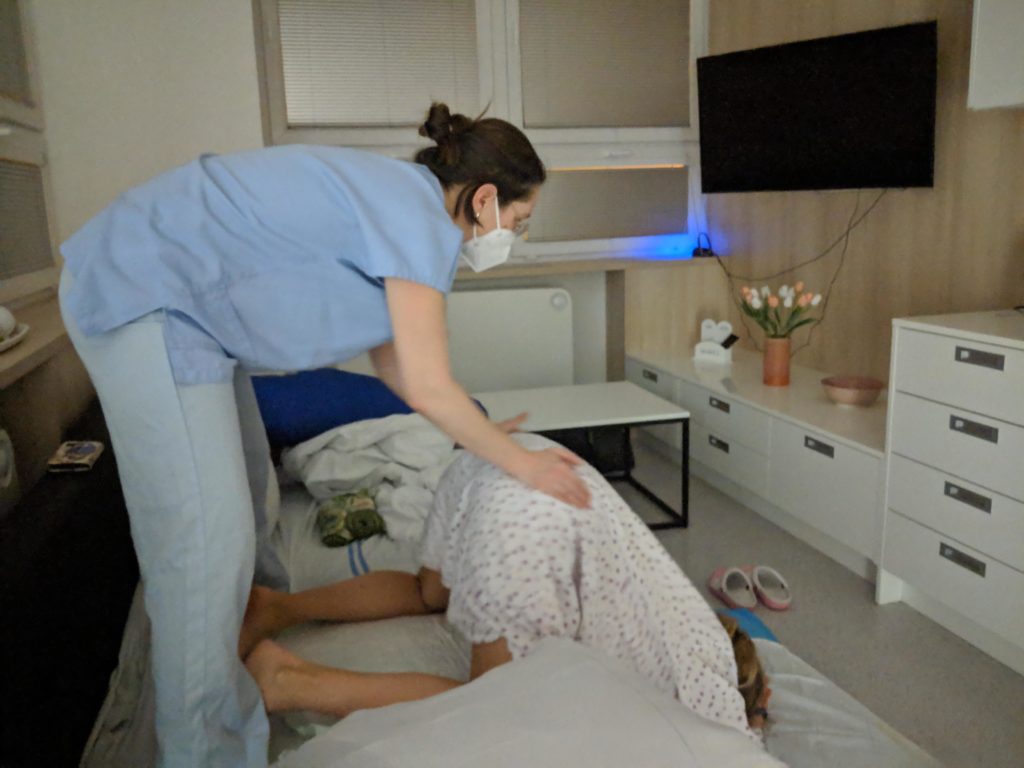 Klockan tickade på och vid 01 på natten så hade det gått 12 timmar sedan förlossningen startade och jag var fortfarande bara öppen 3 cm. All smärta för ingenting. Jag blev besviken på min egen kropp, alla dessa timmar med otrolig smärta utan någon som helst belöning. Jag blev lite less då, men bestämde mig med min doula att börja ta värkar i olika positioner som kunde hjälpa och under två timmar så höll vi på med detta. Jag hade också fått feber och under denna punkt i förlossningsarbetet så började jag känna mig sjuk och mina energinivåer sjönk. Vid kl 03 så blev jag undersökt igen och fick då veta att jag nu var öppen 4-5 cm och detta fick mig att tappa all tro på mig själv. Jag hade hållit på i 14 timmar och nu såg allt ut att bli en till 27 timmars förlossning, så där bad jag om en epidural. Jag var jätteledsen över att behöva ta en epidural och riskera att förlänga förlossningen ännu mer, men jag orkade inte arbeta med så starka värkar längre utan att få något i gengäld och jag tvivlade nu på min kropps förmåga att föda barn och satt och grät medan vi väntade på anestesiologen. 
The epidural
The anesthesiologist came quickly and I was prepared to have a needle put right into my spine. At this point my body decided to get contraction spasms so waves of contractions  now came with no more than 20-30 seconds between each contraction, which made the actual insertion of the epidural a difficult experience. I had to take several contractions in a sitting (bent forward) position with admonitions not to move a fin due to the fact that the needle was in my spine and they had to wait until a gap between the contractions came to be able to administer the drug.
At 03.40 the epidural had been administered and I could feel its effect and exhale in relief. Now I thought that I would get some rest, but it did not happen. The time between the epidural was put in place to our son was out, was 22 minutes. At 03.45 I was suddenly open 7-8 cm. At 03.50 I was open 9.5 cm and I felt the first pushing contraction.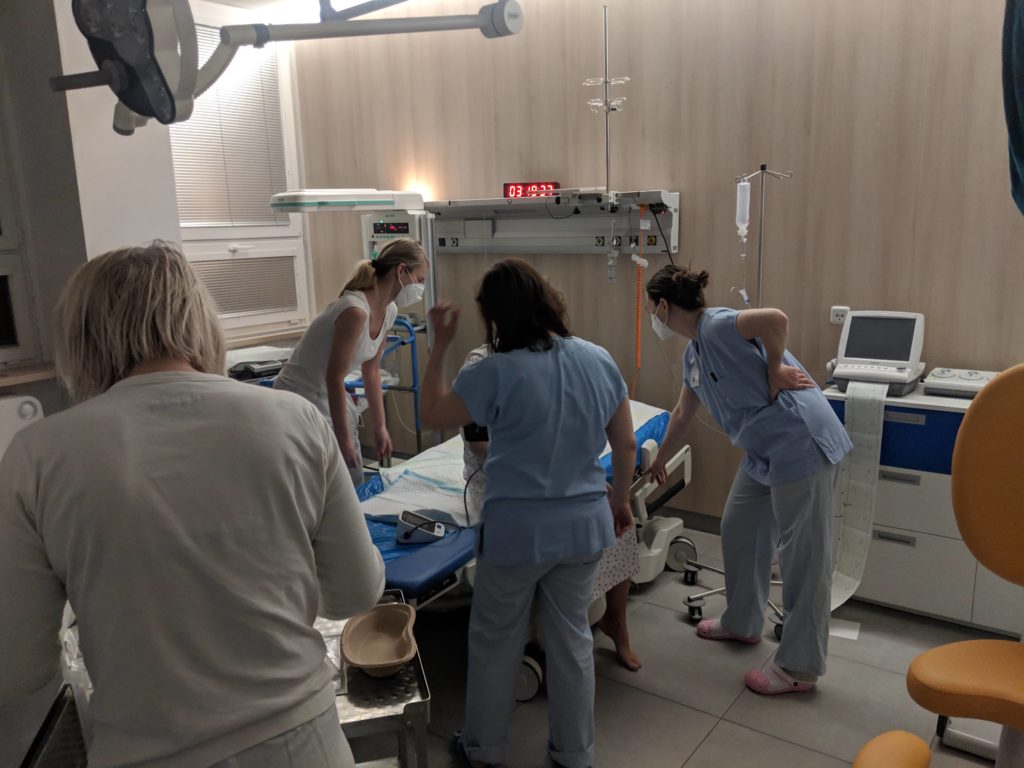 Anestesiologen kom relativt snabbt och jag förbereddes på att få en nål inkörd i ryggraden. Då bestämmer sig min kropp att få värkspasmer så en våg av värkar kom nu med inte mer än 20-30 sekunder mellan varje värk, som gjorde själva sättandet av epiduralen till en jobbig upplevelse. Jag fick ta flera värkar i sittande position och med förmaningar om att inte röra en fena då nålen satt i ryggen, men de var tvungna att vänta tills en lucka mellan värkarna kom för att kunna administrera drogen. 
Vid 03.40 så hade epiduralen satts och jag kunde känna dess effekt och andas ut. Nu skulle jag få vila lite trodde jag, men så blev det inte. Från att epiduralen var satt till att vår son var ute tog det 22 minuter. Kl 03.45 var jag helt plötsligt öppen 7-8 cm. Vid 03.50 så var jag öppen 9.5 cm och jag kände den första krystvärken.
Ossian is born
At the first pushing contraction, my doctor asked me to try to breathe through it due to that I was not fully open, but when the next pushing contraction came it was just a matter of join the feeling and I felt how our son was on his way out. Ossian was born on three contractions at 04.02 on April 20th and it felt as if he was coming out at rocket speed through a water slide. At the second pushing contraction the head was suddenly almost out and at the third pushing contraction the rest of his body came out and he could be laid on my chest. Now our son was finally here.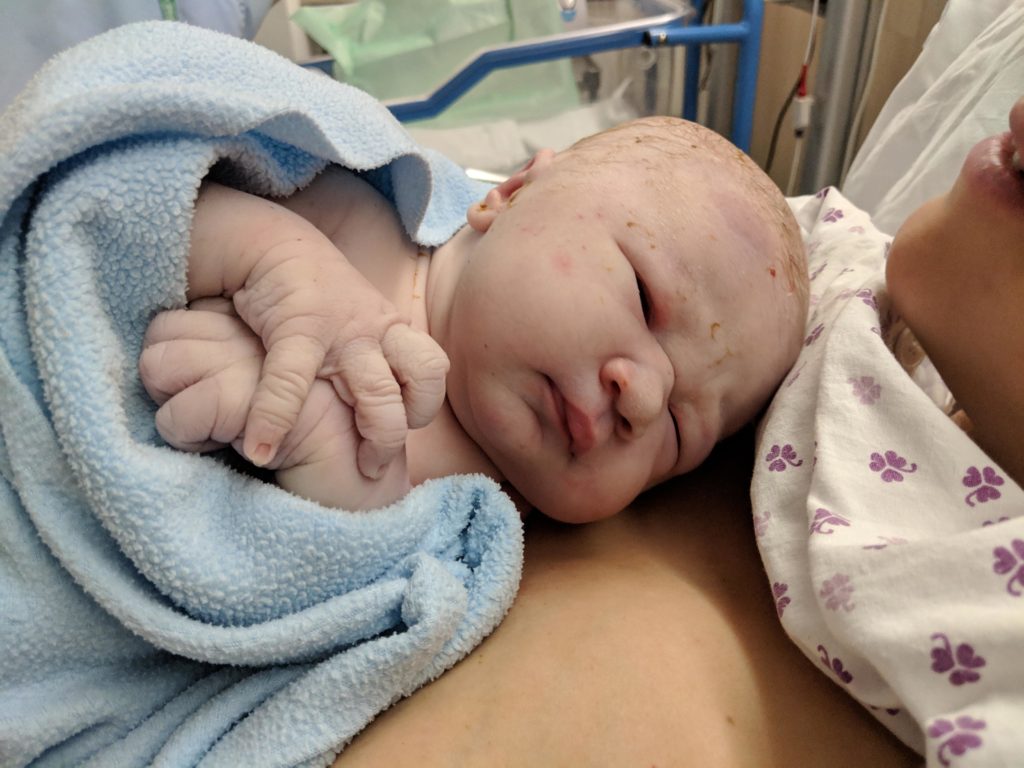 Vid den första krystvärken så bad läkaren mig att försöka andas igenom den då jag inte var öppen helt, men när nästa värk kom så var det bara att trycka och jag kände hur vår son var på väg ut. Ossian föddes på tre krystvärkar kl 04.02 den 20:e April och det kändes som om han kom ut i raketfart genom en vattenrutschkana. Vid den andra krystvärken så var huvudet helt plötsligt nästan ute och vid den tredje krystvärken kom resten av kroppen ut och han fick läggas på mitt bröst. Nu var vår son äntligen här.  
The aftermath
With Othilia, I was anesthetized immediately after she was born to stop the bleeding and then the placenta was also removed, so this time I got to experience pushing out the placenta as well. It was surprisingly simple, I barely felt it and it went very fast. The placenta was heart-shaped and I have read that children who is born with a heart-shaped placenta are called heart babies.
I barely bled this time and I thought I would rupture as everything went so fast in the end, but my doctor examined me very carefully and we were both so surprised that it could go so fast without getting any injuries.
Then we got two hours together all three of us, where we decided on his name, before me and Ossian were rolled up to the neonatal ward and we had to say goodbye to dad who was not allowed to come with us due to the Corona restrictions.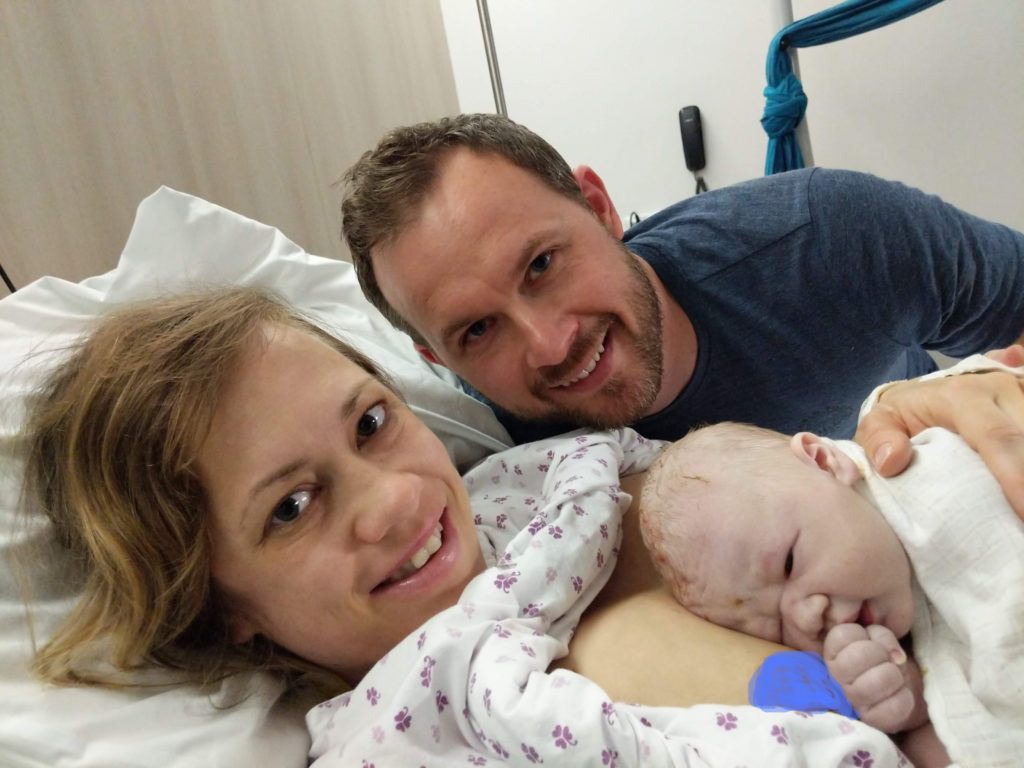 Med Othilia så blev jag sövd direkt efter att hon fötts för att stoppa blödningen och då blev även moderkakan utopererad, så denna gång fick jag uppleva att föda ut moderkakan också. Det var förvånansvärt enkelt, kändes knappt och gick jättesnabbt. Moderkakan var hjärtformad och jag har läst att barn som kommer med en hjärtformad moderkaka kallas hjärtebarn.
Jag blödde knappt något denna gång och jag trodde att jag skulle spricka då allt gick så fort på slutet men min läkare undersökte mig väldigt noggrant och vi båda var så förvånade att det kunna gå så snabbt utan att få några bristningar.
Sedan fick vi två timmar tillsammans alla tre, där vi bestämde att Ossian skulle heta Ossian, innan jag och Ossian blev upprullade till neonatalen och vi fick säga hejdå till pappa som inte fick följa med oss pga coronarestriktioner.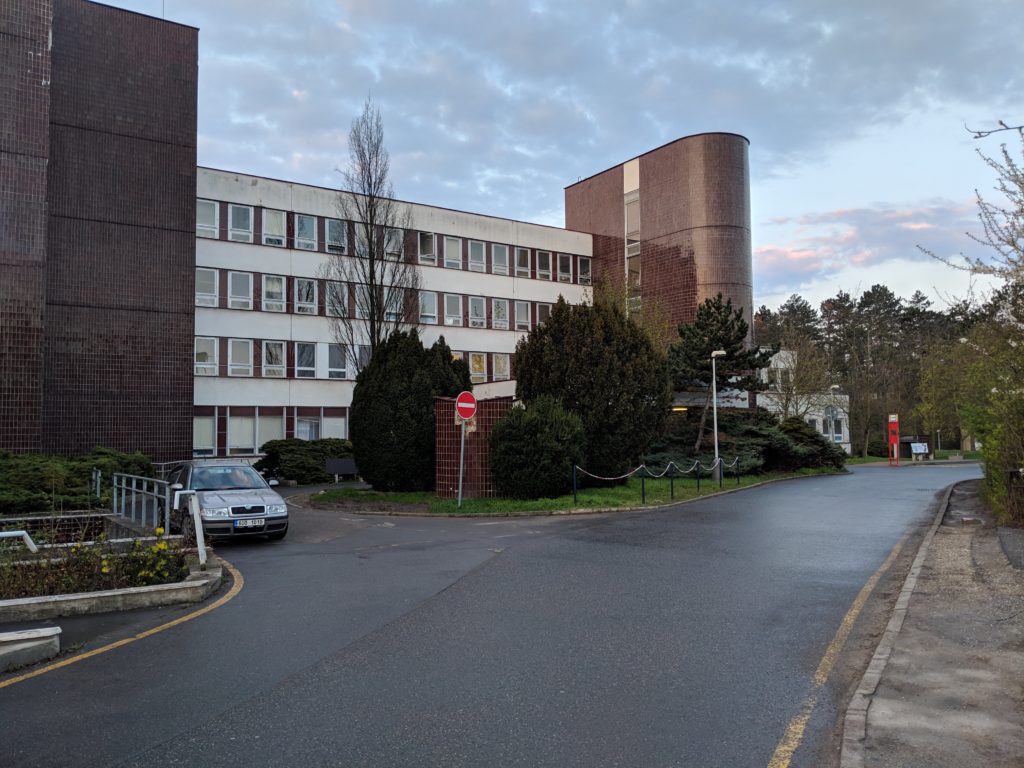 Me and Ossian spent two nights at the neonatal ward before we could  go home to big sister, dad, grandma and "Nattaj".
Home to be a family of four individuals!
---
Det blev två nätter på neonatalen innan jag och Ossian fick åka hem till storasyster, pappa, mormor och "Nattaj"
Hem för att vara en familj på fyra individer!