Giethoorn is truly an interesting place. Founded by Flagellants, has no roads, and the number of Chinese people travelling to this village in the Netherlands is so high that the village was voted in as one of the places that you could buy on the international Monopoly edition released in 2015, after the contest on which places should be on this special monopoly edition went viral in China.
So we had to go there and experience the madness. No roads mean that you travel on waterways by rented boats and there are plenty of boats to rent due to the many Chinese tourists visiting this place. Between 150 000 and 200 000 Chinese tourists per year visit this village that only has around  2500 inhabitants. So it really felt like we were in an amusement park riding those bumper cars, but at the same time we were actually sitting in the love tunnel boats looking at the surrealistic scenery around us. Be prepared to be bumping around with other, mainly Chinese, tourists.
The history of Giethoorn starts with the Flagellants, a Catholic sect where worshipers likes to whip their own bodies with different instruments, who settled here in the 13th century. After them came the farmers and their farmland activities created the big lake Boppenwide next to Giethoorn, a lake which is no more than a meter deep at its places. The water is quite shallow in most areas here, so that is why we lack life-jackets in all pictures below.
Giethoorn is best pictured by actual footage, not text, so there will be plenty of pictures of the village below. Othilia started walking here in the Netherlands so we will insert a video of her record walking in the end and a few photos from Ulrika's birthday. Pictures coming up!
---
Giethoorn är en verkligt intressant plats. Grundades av Flagellanter, har inga bilvägar och antalet kineser som reser till denna by i Nederländerna är så hög att byn röstades in som en av de platser som du kan köpa i den internationella versionen av monopol som utgavs 2015 efter att tävlingen om vilka platser som borde vara med på denna speciella monopolutgåva blev viral i Kina.
Så vi var tvungna att åka dit och uppleva galenskapen. Inga vägar betyder att du reser på vattenvägar med båtar du kan hyra och det finns många båtar att hyra på grund av det stora antalet kinesiska besökare. Mellan 150 000 och 200 000 kinesiska turister per år besöker denna by som bara har cirka 2500 invånare. Det kändes verkligen som om vi var på ett tivoli åkandes i radiobilar medan vi samtidigt faktiskt sitter i kärlekstunnel-båtar och tittar på det surrealistiska landskapet omkring oss. Var beredd och stöta runt med andra, främst kinesiska, turister.
Giethoorns historia börjar med Flagellanterna, en katolsk sekt där medlemmarna piskar deras kroppar med olika instrument, som bosatte sig här på 1200-talet. Efter dem kom bönderna och deras jordbruksverksamhet skapade den stora sjön Boppenwide som ligger bredvid Giethoorn. Denna sjö är inte mer än en meter djup på sina platser. Vattnet är väldigt grunt i de flesta områden här, så det är därför vi saknar flytvästar i alla bilder nedan.
Giethoorn är bäst avbildad av faktiska bilder, inte text, så det kommer att finnas gott om bilder på byn nedan. Othilia började gå här i Nederländerna så vi kommer också att publicera en video av hennes rekordpromenad, samt några foton från Ulrikas födelsedag. Nu kommer bilderna!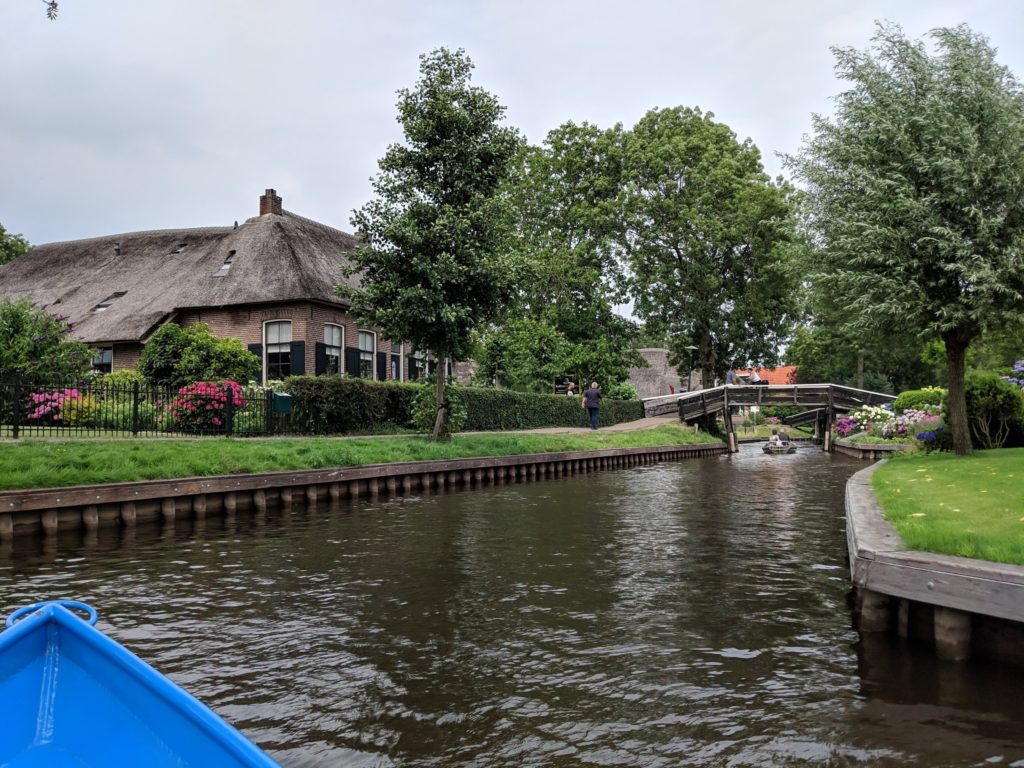 And lastly, our daughter walking by herself exactly 10 months after we welcomed her into this world. The time goes so fast!