We thought it would be interesting to write a blog post about our experiences being pregnant and nomads traveling the world. We are not doing this pregnancy the traditional way, so at least we can tell you about our pregnancy journey so far.
We are still in the planning stage for the rest of the pregnancy so we will update you about the future when we know more. For now, here is how the first 15 weeks have been for us.
Vi tänkte att det vore intressant att skriva ett blogginlägg om våra erfarenheter av att vara gravid och nomader som reser runt i världen. Vi gör inte denna graviditet på det traditionella sättet, så vi kan åtminstone berätta om vår graviditetsresa hittills.
Vi är fortfarande i planeringsstadiet för resten av graviditeten, så vi kommer att uppdatera er om framtiden när vi vet mer. Just nu kan vi berätta hur de första 15 veckorna har varit för oss.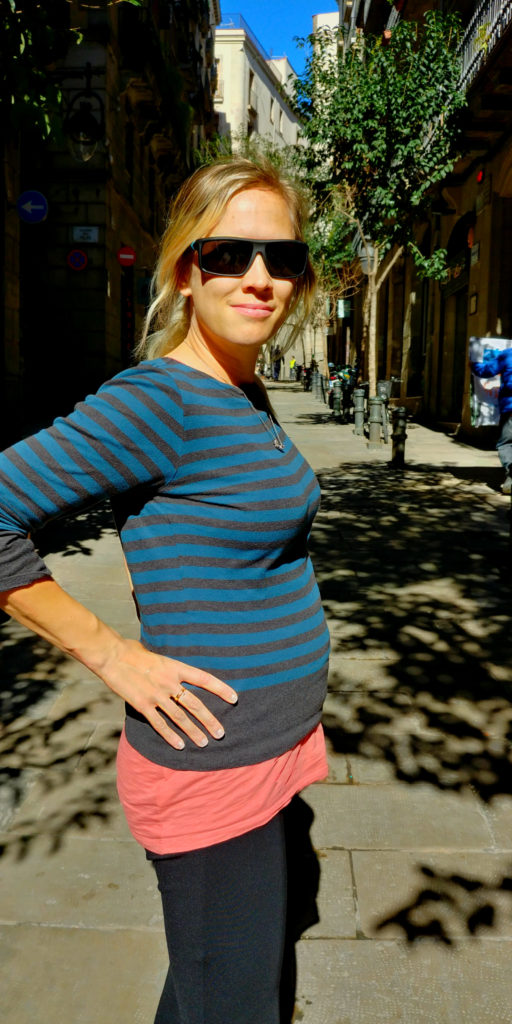 Ulrika's belly appeared last week and some days it is bigger than other days (like this day).  The picture is taken around week 15 in sunny Barcelona.
Ulrikas mage visade sig förra veckan och vissa dagar är den större än andra dagar (som denna dag). Bilden är tagen runt vecka 15 i soliga Barcelona.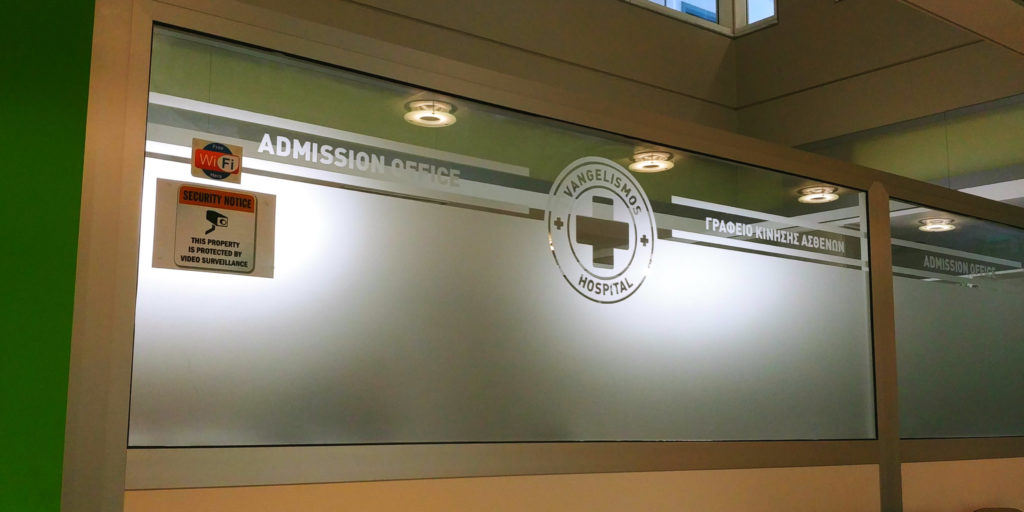 We got a positive pregnancy test after Christmas while we still where in Paphos (Cyprus) and we were excited to celebrate the new year being three humans in our family team. Just before we left the island Ulrika started bleeding just a little, so we wanted to do a check up to see what was causing the bleeding. It is nice being in countries with easy health care systems, here in Cyprus we went to a  private hospital and got an emergency appointment just one hour after our arrival.
Vi fick ett positivt graviditetstest efter jul medan vi fortfarande var i Paphos (Cypern) och vi var glada över att kunna fira in det nya året som tre människor i vår familj. Strax innan vi lämnade ön började Ulrika blöda lite så vi ville göra en kontroll för att se vad som orsakade blödningen. Det är trevligt att vara i länder med bra vårdsystem, här på Cypern åkte vi till ett privat sjukhus och fick en akuttid bara en timme efter vår ankomst.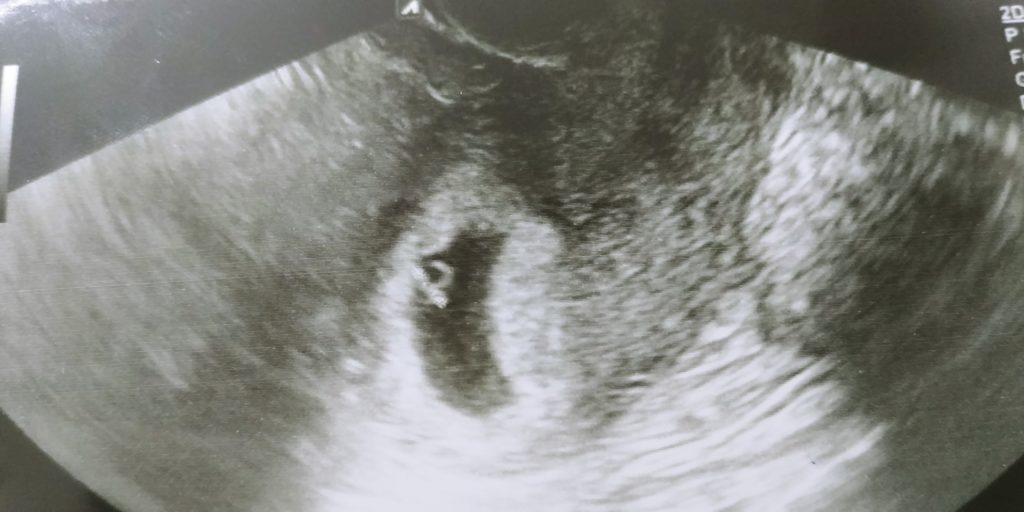 We got to see a tiny "worm" with one pixel blinking, confirming that we did have a heart beating inside Ulrika's uterus, in week 7. The bleeding came from a rupture in the endometrium (black area above the amniotic sac). The doctor prescribed rest and two shots of progesterone, two days apart, and we could move on if no more bleeding occurred. The cost was 84 Euro for everything (emergency-visit, ultrasound, examination and two progesterone shot appointments).
Vi fick se en liten "mask" med en pixel som blinkande, vilket bekräftade att vi hade ett hjärta som slog i Ulrikas livmoder, i vecka 7. Blödningen kom från en bristning i endometriet (svart område ovanför fosterhinnan). Läkaren ordinerade vila och två sprutor progesteron, två dagar mellan sprutorna, och vi kunde resa vidare om ingen mer blödning inträffade. Kostnaden för allt blev 84 Euro (akut-besök, ultraljud, undersökning och progesteron administrerat vid två tillfällen).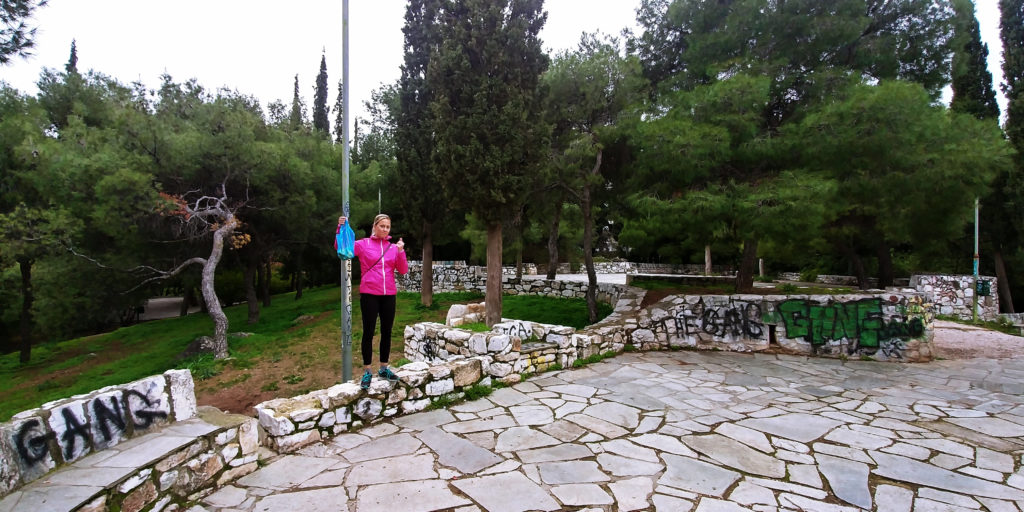 Ulrika started feeling nauseous just before we left Cyprus, but the full storm of  nauseousness and vomiting came when we had arrived to Athens (Greece). The first week in Athens was so bad that Ulrika barely could leave the apartment. We had a lovely park with pine trees next door that we could visit those hours when Ulrika felt a little bit better. Most smells of food and drinks were repulsive to Ulrika and Pontus had to be in another room if he wanted to drink coffee. The only things Ulrika could eat were choco pops or strawberries with milk, and raw carrots.
Ulrika började känna sig illamående strax innan vi lämnade Cypern, men den fulla stormen av illamående och kräkningar kom när vi anlänt till Aten (Grekland). Den första veckan i Aten var Ulrika så dålig att hon knappt kunde lämna lägenheten. Vi hade en härlig park med tallar bredvid som vi kunde besöka de timmar när Ulrika kände sig lite bättre. De flesta lukter av mat och drycker var  motbjudande för Ulrika och Pontus var tvungen att vara i ett annat rum om han ville dricka kaffe. Det enda som Ulrika kunde äta var choco pops eller jordgubbar med mjölk, samt råa morötter.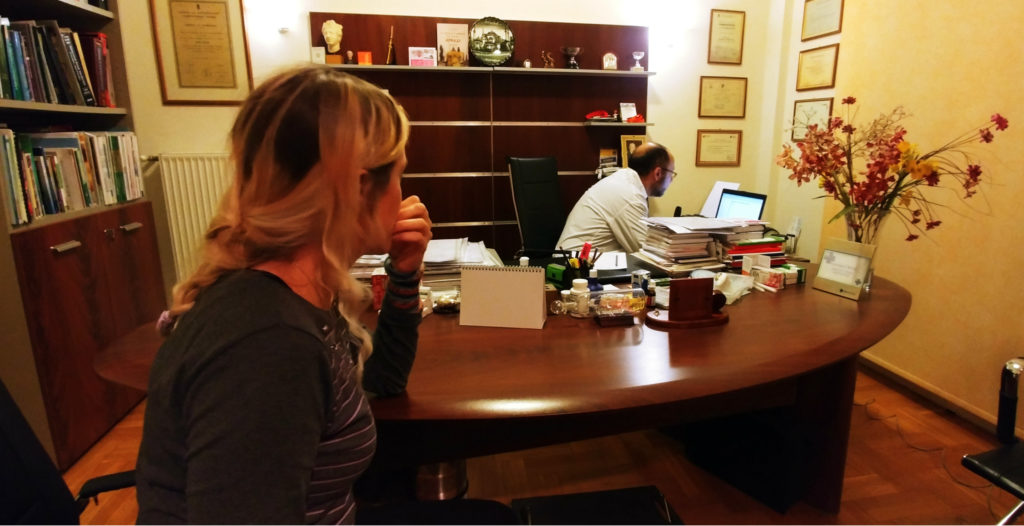 Our great airbnb-hosts in Athens could recommend a gynecologist, so we could do a follow up in week 9 to see if we could actually hear a heart beating this time. The Greek health care system is as dysfunctional as the Swedish health care system, but in one way the Greek system is better. A lot of the Greek doctors have a private practice after the state working hours, where they see patients during evenings and weekends. So if you pay privately, it is quite easy to see a doctor in Athens. The cost was 30 Euro for ultrasound, examination and pictures.
Våra härliga airbnb-värdar i Aten kunde rekommendera en gynekolog, så att vi kunde göra en uppföljning i vecka 9 för att se om vi faktiskt kunde höra ett hjärta som slog den här gången. Det grekiska hälsovårdssystemet är lika dysfunktionellt som det svenska hälsovårdssystemet, men på ett sätt är det grekiska systemet bättre. Många av de grekiska läkarna har en privat mottagning efter de statliga arbetstimmarna där de träffar patienter på kvällar och helger. Om du betalar privat, så är det ganska lätt att träffa en läkare i Aten. Kostnaden var 30 Euro för ultraljud, undersökning och bilder.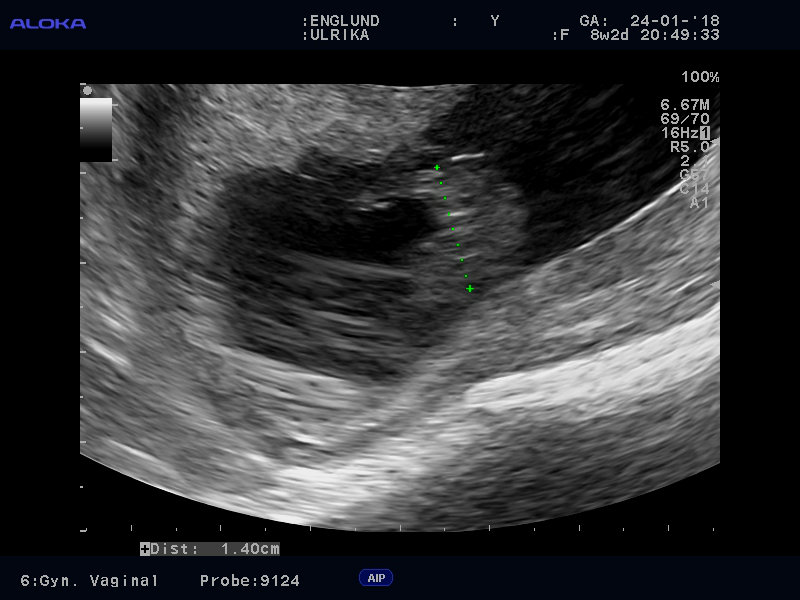 Here is the first real picture of "det lilla livet", 1.4 cm from crown to rump and now we heard a beating heart.
Another thing that we love and that you can't find in Sweden is private labs where you can go to get your body fluids analysed without having to go through a doctor. Most countries we've traveled to has this kind of system. In Athens, the labs have a drop-in system in the morning when they draw your blood and for most analysis you come back in the afternoon to get your result. Ulrika's gynecologist wanted Ulrika to see how her thyroidea was working, so the morning after we went to one of the labs nearby and got the results back a few hours later. This kind of easy system is what we like. The lab analysis of TSH-levels costed 15 Euro.
Här är den första riktiga bilden av det lilla livet, 1,4 cm från huvud till rumpa och nu hörde vi ett slående hjärta.
En annan sak som vi älskar, och som du inte kan hitta i Sverige, är privata labb dit du kan gå för att få dina kroppsvätskor analyserade utan att behöva träffa en läkare först. De flesta länder som vi har rest till har den typen av system. I Aten har laboratorierna drop-in på morgonen när de drar ditt blod och för de flesta analyser kommer du tillbaka på eftermiddagen för att få ditt resultat. Ulrikas gynekolog ville att Ulrika skulle kolla hur hennes tyroidea (sköldkörtel) fungerade, så morgonen efter åkte vi till ett av laboratorierna i närheten och fick resultatet några timmar senare. Sådana smidiga system gillar vi. Labbanalysen av TSH-nivåer kostade 15 Euro.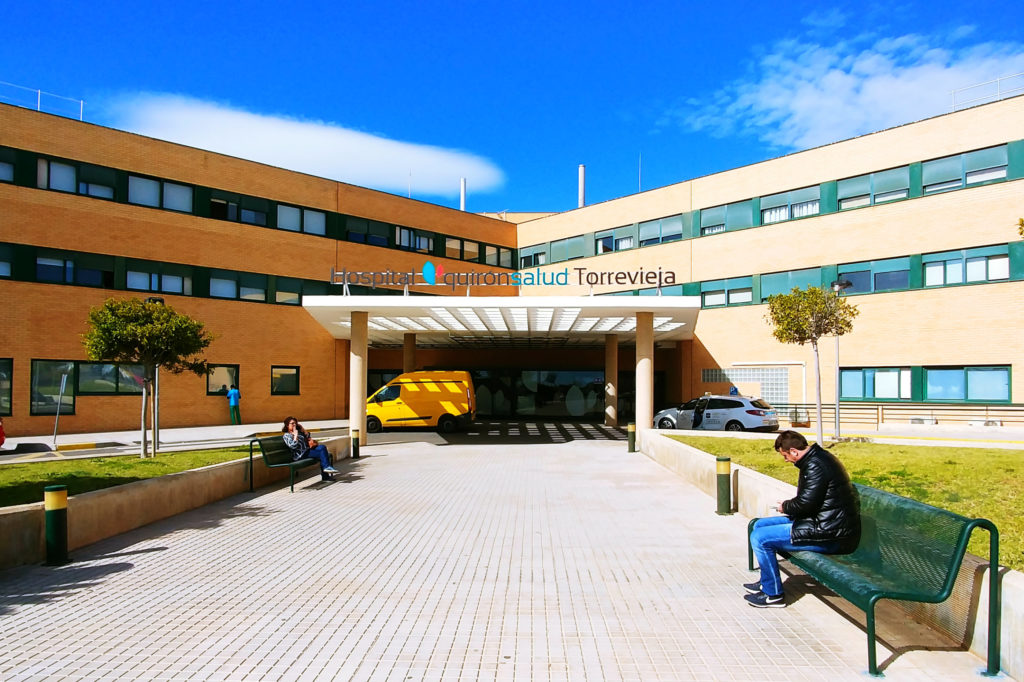 The routine check-up around 12 weeks where done in Torrevieja (Spain). Ulrika had been feeling nauseous up to this point, but around week 12 it finally stopped and Ulrika's "vomiting in restaurant toilets"-tour, which where especially bad in Torremolinos (Spain), went away.
The Quiron Salud private Hospital in Torrevieja is an internationally known hospital and people come here from all over Europe for surgery, cancer treatments, IVF's etc. It was really easy to get an appointment here and we got to experience a modern, service-minded and customer-centered health care.
Den rutinmässiga vecka 12-kontrollen gjorde vi i Torrevieja (Spanien). Ulrika var illamående fram till denna punkt och omkring vecka 12 slutade det äntligen och Ulrikas "kräkas i restaurangtoaletter"-turné, som var särskilt intensiv i Torremolinos (Spanien), försvann.
Det privata sjukhuset Quiron Salud i Torrevieja är ett internationellt erkänt sjukhus och människor kommer hit från hela Europa för kirurgiska ingrepp, cancerbehandlingar, IVF etc. Det var väldigt enkelt att få en tid här och vi fick uppleva en modern, serviceinriktad och kundcentrerad hälsovård.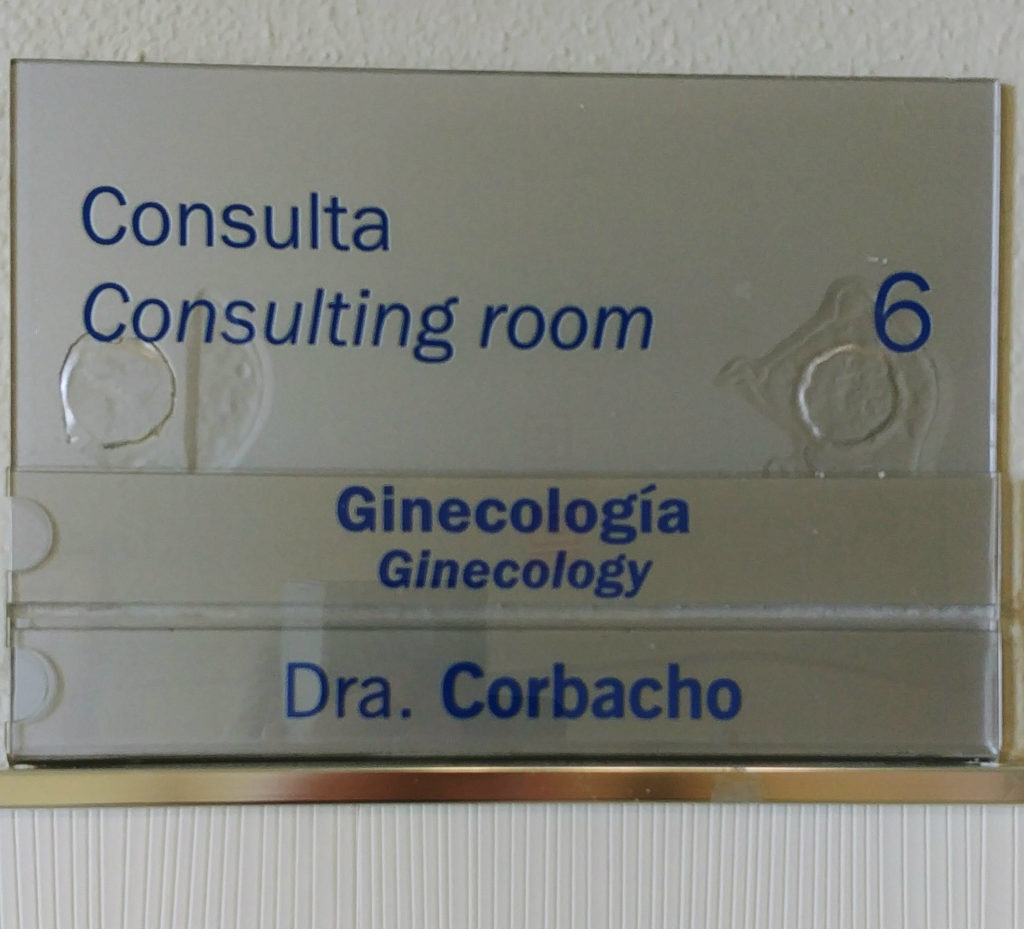 We were even asked if we wanted a Swedish or English interpreter with us and we heard Dutch and Norwegian interpreters in the waiting room, so the language barrier isn't a problem here. We wanted to do a number of different tests, including the NIP-Test where you get to know the risk for a trisomy pregnancy, and it was possible to do here.
Vi blev även tillfrågade om vi ville ha en svensk eller engelsk tolk med oss och vi hörde även holländska och norska tolkar i väntrummet, så språkbarriären är inte ett problem här. Vi ville göra ett antal olika tester, inklusive KUB-testet där man får veta risken för en trisomigraviditet, och det var möjligt att göra här.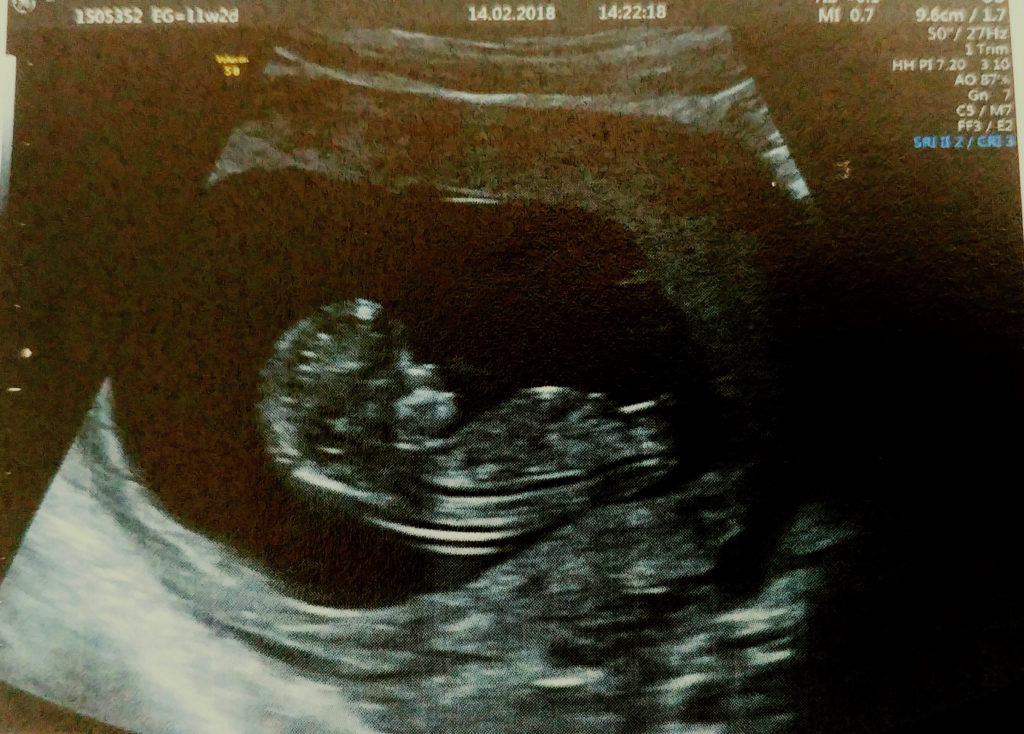 They had just gotten a new ultrasound machine, so the details we could see was incredible. Here is "det lilla livet" in week 12 of the pregnancy about 5 cm from rump to crown. She was quite active during this ultrasound so we got to see her ninja skills, her sucking her thumb and some waving of arms.  It was after this ultrasound we could announce to the world that our family now consists of three humans.
De hade precis fått en ny ultraljudsmaskin, så detaljerna vi kunde se var otroliga. Här är "det lilla livet" i vecka 12 av graviditeten, ca 5 cm från huvud till rumpa. Hon var ganska aktiv under detta ultraljud så vi fick se hennes ninjafärdigheter, se henne suga på tummen och lite vevande med armarna. Det var efter detta ultraljud som vi kunde tillkännage för världen att vår familj nu består av tre människor.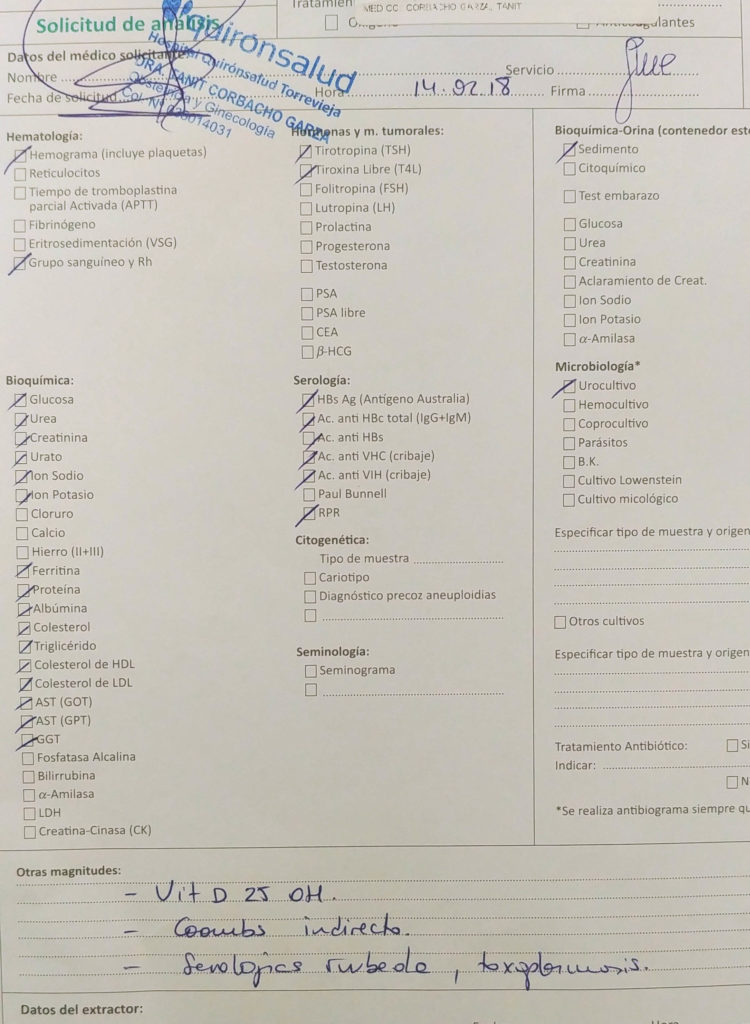 In addition to the NIP-Test, Ulrika also got a full body analysis: hematology, microbiology, biochemistry, serology etc. We had to wait for the results so we extended our stay in Torrevieja.
Förutom KUB-testet fick Ulrika också en fullständig kroppsanalys: hematologi, mikrobiologi, biokemi, serologi etc. Vi fick vänta på resultaten så att vi förlängde vår vistelse i Torrevieja.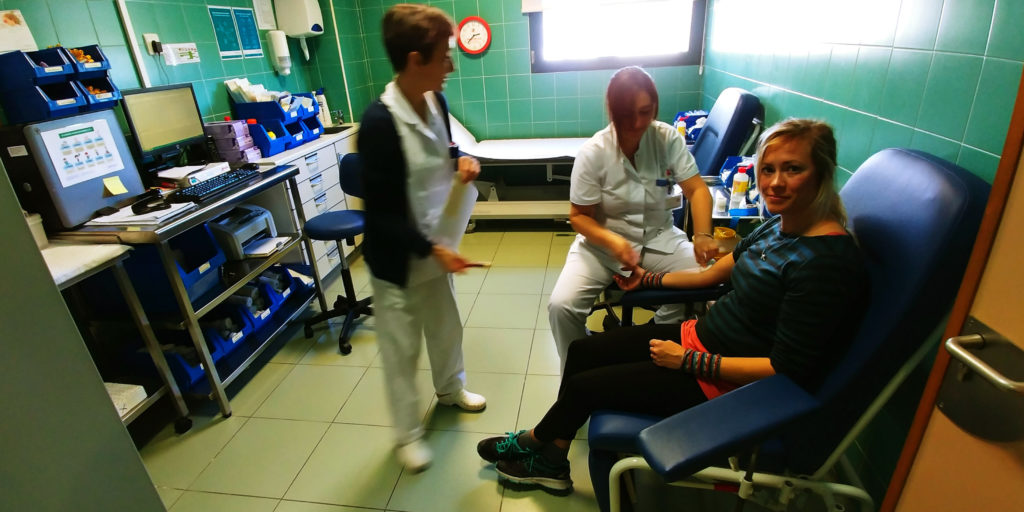 The nice nurses at the blood analysis station. Ulrika was happy to give away some blood to find out the status of her pregnant body. The vitamin D-concentration is one of the tests she has wanted to do for a long time.
We've paid 568 Euro for two doctors visits with English interpreters, two ultrasounds (one with the 3D ultrasound feature), blood and urine work and the NIP-Test. Ulrika has a maternity add-on insurance coupled to her international medicine and accident insurance,  an insurance we recommend to have if you want to live as a nomad.
De snälla sjuksköterskorna vid blodanalysstationen. Ulrika var glad att ge bort lite blod för att få reda på statusen för hennes gravida kropp. Vitamin D-koncentrationen i blodet är en av de tester som hon har velat göra länge.
Vi betalade 568 euro för två doktorsbesök med engelska tolkar, två ultraljud (ett med 3D-ultraljudsfunktion), blod och urinanalyserna, samt KUB-testet. Ulrika har ett graviditetstillägg kopplad till hennes internationella medicin- och olycksfallsförsäkring, en försäkring som vi rekommenderar att ha om du vill leva som nomad.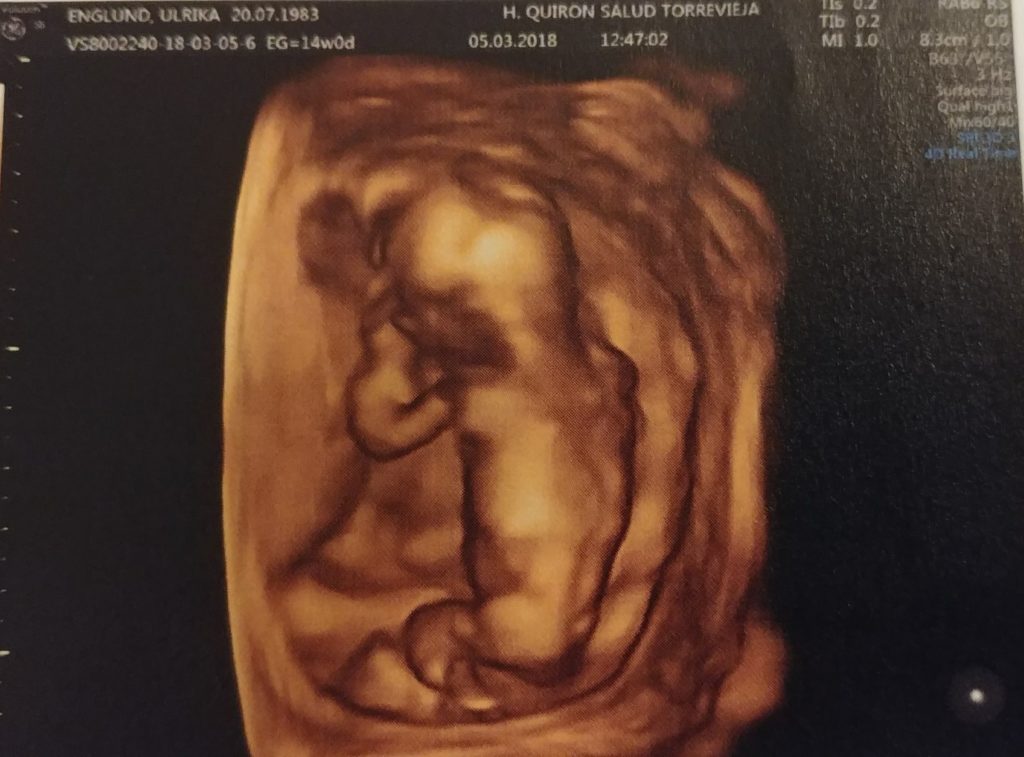 We came back a few weeks later for the second visit where we got our results and to see our little Gollum using the 3D-feature on the ultrasound machine. Ulrika was now pregnant in week 15 so "det lilla livet" was now 9 cm from crown to rump. She was sleeping with her face towards Ulrika's spine so we could only see her back and she didn't move this time around.  We got confirmation that it is a girl we are expecting and everything looked good for both our girl and Ulrika. 
We carry  Ulrika's own journal with us wherever we go, because our life style doesn't permit us to stick to one doctor. So this far Ulrika's journal consists of Greek and Spanish papers, so we will see which other languages will be included in the journal before "det lilla livet" enters the world. We prefer to be in full control ourselves and we don't want to be dependent on one doctor or health care system, but we are welcome to contact our Greek doctor any time if we have questions. 
Vi återvände några veckor senare för det andra besöket där vi fick våra resultat och möjligheten att se vår lilla Gollum med hjälp av 3D-funktionen på ultraljudsmaskinen. Ulrika var nu i vecka 15 i graviditeten så "det lilla livet" var 9 cm från huvud till rumpa. Hon sov med ansiktet mot Ulrikas ryggrad, så vi kunde bara se hennes baksida och hon rörde sig inte denna gång. Vi har fått bekräftelse på att det är en tjej som vi väntar på och allt såg bra ut för både vår tjej och Ulrika.
Ulrikas egen journal bär vi med oss vart vi än reser för vår nomadiska livsstil tillåter oss inte att hålla oss till en läkare. Ulrikas journal består så här långt av grekiska och spanska papper och vi får se vilka andra språk som kommer att ingå i journalen innan "det lilla livet" kommer till världen. Vi föredrar att själva ha full kontroll och vi vill inte vara beroende av en läkare/vårdcentral eller vårdsystem, men vi är välkomna att kontakta vår grekiska läkare när som helst om vi skulle ha frågor.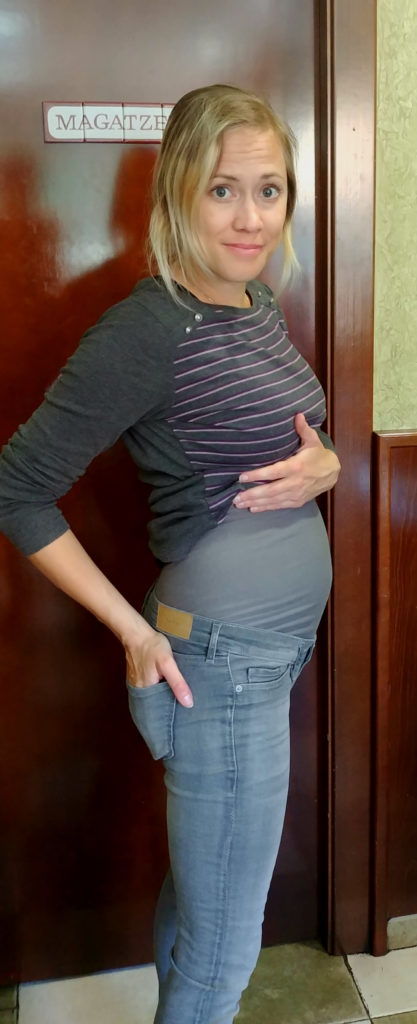 We traveled to Barcelona and Ulrika's belly just appeared over night so we went to H&M to buy Ulrika's first set of maternity jeans in week 15 of the pregnancy. Now we are patiently waiting for our girl to grow big enough to come out and join us. 
If you have any questions about pregnancy and nomad life, please feel free to send us a message on our social media accounts or email.
Vi reste till Barcelona och Ulrikas mage visade sig över en natt så vi gick till H&M för att köpa Ulrikas första uppsättning av graviditetsjeans i vecka 15 av graviditeten. Nu väntar vi tålmodigt på att vår tjej ska bli stor nog att komma ut och slå följe med oss.
Har ni några frågor om hur det är att vara gravid och nomad så får ni gärna skicka ett meddelande till oss på på några av våra sociala medier eller maila.